ServiceMaster Quality Restoration
Most natural disasters incite fear in home and property owners because they are always a threat to cause severe exterior or structural damage.  It is possible for fires, floods, major storms, and other disasters to cause the type of damage to your home or building that can only be repaired with reconstruction services.
If your home or building is heavily damaged, you must call a professional that provides reconstruction services immediately to stabilize the structure and prevent the damage from getting worse.  At ServiceMaster Quality Restoration, we provide disaster-related reconstruction services in Charlotte, NC to stabilize and fully repair homes and businesses that have experienced severe damage from a natural disaster.  Our technicians will make sure your home or building is properly stabilized, and form a reconstruction plan that covers the full extent of the damage.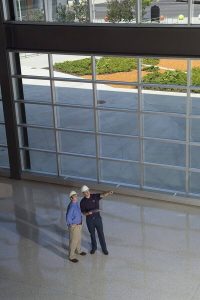 Damages Caused by Natural Disasters
Experiencing severe damage to your home or business is disheartening and overwhelming as you may feel helpless in the immediate aftermath.  This type of damage may put your home or business out of commission and seriously disrupt your daily life or business activities.
But the best way to restore some peace of mind after a major disaster is to contact our professionals at ServiceMaster Quality Restoration.  We will stabilize your home or building right away to prevent the damage from getting worse, and create a full reconstruction plan to repair every bit of the damage.  Our technicians have experience working on major construction projects and we will assign a project manager who will ensure that the reconstruction plan is being carried out correctly and on schedule.  You can also approach the project manager at any time with your questions or concerns.
Reconstruction Services in Charlotte, NC – Watch Our Video
For reconstruction services in Charlotte, NC, contact ServiceMaster Quality Restoration, 24/7, at (704) 603-6223
The reconstruction services that we provide in Charlotte, NC include the following:
Thorough assessment of the damage
Project management including planning and scheduling
Estimates
Permits and licenses
Consultation and design
Controlled demolition
Remodeling
Carpentry and framing
Carpet and flooring
Plumbing
Roof repair
If a major disaster causes severe damage to your home or business, you must react right away to prevent the damage from getting even worse.  Our technicians at ServiceMaster Quality Restoration are ready to respond in an emergency to get the building stabilized and start the reconstruction process.
Emergency Response
You can reach us 24 hours a day at (704) 603-6223 for emergency stabilization and reconstruction services in Charlotte, NC.
---
Related Reconstruction Services
Emergency Construction in Stallings, NC
---
Recent Reviews
September 16, 2019
Service Master responded extremely quickly when we had a devastating water leak which caused a deluge of water to erupt from the ceiling between the first and second floor and caused immense damage to the flooring and furniture throughout the house. Service Maser were there within an hour and immediately commenced removing all the water and getting dryers and dehumidifiers into the house to dry it out. Where the drywall was soaked it was removed and the house tested to ensure no contaminants remained. We are very grateful to Service Master for their quick response to our call for help.