Coventry Services
Fires are perhaps the most serious natural disasters that can occur in a home or building because they immediately put everyone inside in danger and cause very deep and extensive damage.  A fire can start at any time from any number of different causes, and it spread very quickly.  You must evacuate your home or building as soon as the fire starts and call 911 to have the fire department come put the fire out.  While having the fire extinguisher is a welcome relief, it does not put an end to the damage.  The byproducts created by the fire such as soot and smoke will continue to hang round and cause damage until your property can be treated by a restoration professional.
At Coventry Services, our technicians have the certification, experience, and equipment to provide fire and smoke damage restoration services for homes and businesses in Baltimore, MD.  Our advanced cleaning techniques and equipment will help us salvage as much of your property as we can and get your home or building rebuilt to its pre-loss condition.
Fire and Smoke Damage Restoration in Baltimore, MD
When a fire occurs, the flames cause initial damage which includes charring and general destruction that can leave the structural core of the home or building compromised.  After the fire is put out, the smoke, soot, and corrosive byproducts created by the extreme heat will settle on various objects and surfaces throughout the building.  These materials often reach areas that were not damaged by the flames and they can quickly etch and discolor the affected objects and surfaces.  Hesitating to begin the fire damage restoration process will not only allow these corrosive byproducts to spread over a larger area of your property but also increase the risk of permanent damage to the affected materials.
You can trust our experienced technicians to effectively restore your home or business back to its pre-fire condition.  We will make sure the structural damage is rebuilt and we use advanced cleaning products and equipment, including our Ultrasonic Machine, to clean up damage from soot and corrosive byproducts.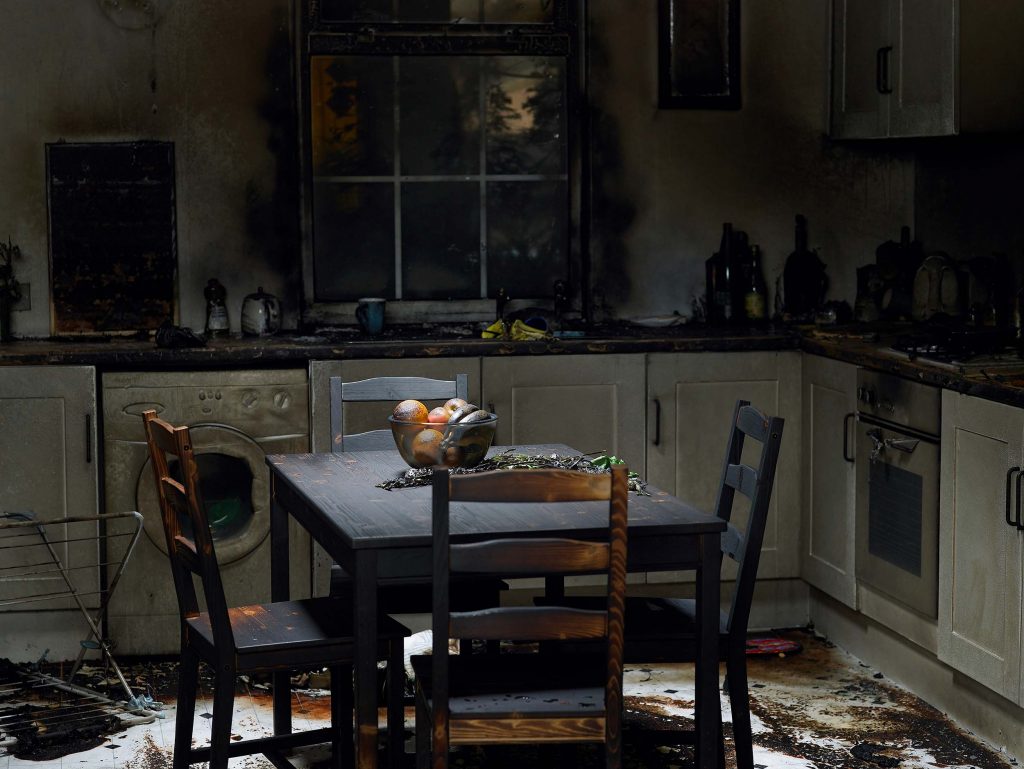 Our complete fire and smoke damage restoration services include:
24/7 Emergency response
Emergency board-ups and building stabilization
Content cleaning and pack-outs
Air duct cleaning
Power washing
Moving and Storage
Ultrasonic Machine for Smoke Removal
Many of the items and furnishings in your home that have been affected by soot damage can be restored, even if you think they are permanently damaged.  We can effectively remove the tarnishing and etching caused by soot and corrosive byproducts using our state-of-the-art Ultrasonic Machine.  This machine removes soot particles with high frequency, low amplitude vibrations to return your soot-damaged items to their original condition.
In the event of a fire, it is very important to get the home or business evacuated and have the fire put out as soon as possible.  However, you must remember that the secondary damage will continue to get worse until you contact a fire damage restoration professional.
Coventry Services is ready to respond to fire damage emergencies in the Baltimore, MD area, 24 hours a day.
You can reach us anytime by calling (443)-971-3957.
---
Related Fire and Smoke Damage Restoration Services
---
Recent Reviews