Major storms are always a possibility throughout the Valencia County, NM area.  Homes and businesses may have to endure several different types of storms including hail storms, wind storms, severe thunderstorms, and even monsoons in the spring and summer.  Each of these storms has the potential to cause major property damage as they include wind and precipitation that can reach dangerous levels.  The damage caused by these storms typically includes exterior damage, serious structural damage, or damage from excess water and flooding.  You must take action immediately if your home or business is damaged by a storm.
At RestorationMaster, we can help homes and businesses throughout Valencia County, NM that have been affected by storms with our storm damage restoration services.  Our technicians will arrive quickly to get your home or building stabilized and evaluate the damage so we can begin the restoration process.
Storms in Valencia County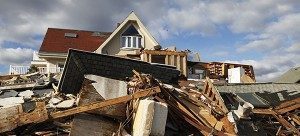 As mentioned above, the Valencia County area is vulnerable to different types of storms that can form quickly and attack with enough force to cause serious property damage.  Make sure you are always prepared for the possibility of the following storms to reduce the risk of damage to your property:
Wind Storms: The Valencia County area experiences wind storms that can cause damage with winds of over 20 mph. These winds are strong enough to damage the roofing, siding, and windows of a home or building.
Hail Storms: Hail storms can be very damaging to windows, roofing, and siding and they can occur at any time of the year.
Severe Thunderstorms: Thunderstorms may seem routine, but they can still cause serious damage and even flooding with strong winds and heavy rain.
Monsoons: Monsoons are among the most severe storms that occur in Valencia County. These storms are more likely to occur between the spring and fall seasons and they consist of very strong winds and heavy downpours.  The wind can cause major damage while the excessive rain can quickly lead to flash floods.
It is important to check your home for property damage immediately after a storm hits.  Any damage caused by one of these storms needs to be addressed as soon as possible or the damage can become much worse.  Our technicians at RestorationMaster are ready to respond to storm damage emergencies and get your home or building stabilized to limit the damage.  We will then inspect the damage and begin the restoration to get your home or building back to its pre-storm condition.
We will take care of the following as part of our storm damage restoration process:
Board-Up and Tarping: Severe storms can cause damage to the roof and exterior of a home or building, leaving it vulnerable to further damage. Our technicians will cover holes and openings in the siding with our board-up services and put tarp over damaged roofing.
Structural Repairs: Hail, wind, and extensive water damage can cause serious damage to the structural core of a home or building. We will stabilize and repair the structural core to return its stability.
Flood and Water Damage Restoration: Excessive rain from a thunderstorm or monsoon can cause water damage or flooding to occur. Whether you are dealing with a leak or indoor flooding, the damage can be extensive.  Building materials and furnishing absorb excess water and allow it to spread, resulting in structural damage.  There is also a higher risk for mold growth with the presence of excess water.  We use advanced equipment that can remove any amount of water, including standing flood water, and we are also equipped to deal with mold growth.
Debris Clearing: We will make sure your property is free of debris including glass, building materials, and fallen tree branches.
As soon as a storm passes, check your property for damage and immediately call RestorationMaster if your home or building has been affected.  We will provide a quick response to get your property stabilized so we can start the restoration process.  We are available 24 hours a day at (505) 814-1411 to provide storm damage restoration services in Valencia County, NM.
We are ready to service the following areas in Valencia County: