ServiceMaster of Albuquerque and West Mesa
When a disaster occurs in an office building or commercial space, the costs due to operational time lost and reconstruction can be significant. However, by reacting quickly and choosing the right restoration service provider, you can minimize these expenses greatly. Here at ServiceMaster of Albuquerque and West Mesa, we make it our mission to do just that through our commercial disaster restoration services. Whether the damage is the result of a fire, a flood, mold growth, a severe accident, or essentially anything else, we can get your business in Valencia County, NM back on track in an efficient and cost-effective manner.
Efficient and Cost-Effective Restoration Services by ServiceMaster in Valencia County, NM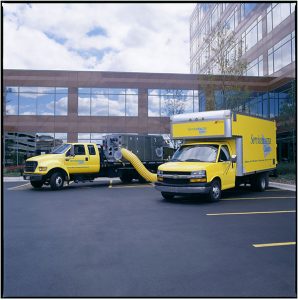 Here at ServiceMaster of Albuquerque and West Mesa, we do everything possible to minimize your losses following a major disaster. This is why our commercial disaster restoration services are all encompassing. From an initial evaluation of the damage and planning, to complete reconstruction and restoration overseen by our very own project managers, we can be your sole point of contact. At the end of the day, this saves you time, effort, and headaches when contacting what would otherwise be multiple contractors.
Additionally, our highly trained technicians understand the importance of working swiftly, but with quality. We work with enthusiasm and efficiency in order to get you back on your feet as soon as possible, but do everything we can to eliminate errors that may result in setbacks.
As we stated above, our commercial disaster restoration services are complete from start to finish. When you choose to work with us here at ServiceMaster of Albuquerque and West Mesa, you can expect assistance with the following scenarios, and more:
If you find yourself in a situation where you need full reconstruction services, we can provide the following:
A thorough initial inspection
Emergency board up and stabilization services
Accurate construction cost estimates
Acquisition of permits
Demolition and debris removal
Full reconstruction and restoration services
Effective project management
General construction (electrical work, carpentry, plumbing, painting, roofing, siding, flooring, etc.)
Quality control inspections
Assistance with insurance claims
Even if you do not need all of the above services, we can certainly discuss what is absolutely necessary given your particular scenario, and help you pick and choose the services that we provide. We can truly customize our services based off of your individual requirements.
Contact Us for Commercial Disaster Restoration Services in Valencia County, NM
If you would like to take advantage of our commercial disaster restoration services here at ServiceMaster of Albuquerque and West Mesa, please feel free to give us a call at (505) 814-1411. We are available 24 hours a day, arrive on-site swiftly, and proudly provide services to businesses in the following cities in Valencia County:
---
Recent Reviews
Review by

Grady Ramsey
for
Disaster Restoration
Rating

"This is a great company! We had a bad water break in our house while we were out for hours. Called our insurance co Farmers. They sent Service Masters out to clean the water and the mess up. Justin Mason and Shawn Beck showed up, Totally great people and hard workers. Smart and professional people and company! Every move they made was for us and they asked if this is good enough or what else can we do for you. Fantastic!!!!"
---
Review by

Rudy Rios.
for
Disaster Restoration
Rating

"The professionals at Service Master of ABQ west Mesa are probably one of the few companies around today that are "True Professionals".Stellar communication, honest staff and employees, and always on time delivery.Not only was Jesse, the manager, always courteous and well spoken, he made every attempt to satisfy our needs on a mold remediation of a commercial job I am doing.I can recommend this Service Master to do more than you would ever expect."