We have all seen television shows and movies that depict graphic crimes and serious accidents that leave blood and other elements on an individual's property. While the chances of this occurring on your premises are low, it is still important to know what to do, as these incidents do happen on a daily basis across the nation. First and foremost, if you are unfortunate enough to come across a trauma scene on your property, dial 911. After this, we encourage you to contact us here at ServiceMaster of Albuquerque and West Mesa right away, as law enforcement personnel and EMTs are not licensed nor expected to remove biohazard material from your property. Through our biohazard and trauma scene cleaning services, we will return your property in Valencia County, NM back to its original, safe condition.
Trusted Biohazard and Trauma Scene Cleaning Services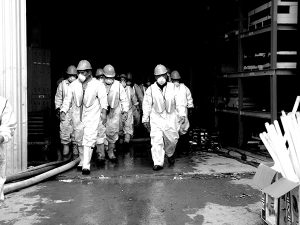 Here at ServiceMaster of Albuquerque and West Mesa, we understand how traumatizing it can be to find such a scene on your property. This is why we always work with compassion in these scenarios. That being said, if you do come across this hazardous material, please do not attempt to clean it on your own. Biohazard materials (i.e. bodily fluids, tissues, etc.) can cause severe infections and diseases. Governmental agencies require specific licensing to clean it, and law enforcement personnel and EMTs are not trained to remove it.
When you choose to utilize our biohazard and trauma scene cleaning service here at ServiceMaster of Albuquerque and West Mesa, you can expect to have your property thoroughly sanitized and restored to livable conditions. Our biohazard cleaning services revolve around the following actions:
Full removal of all biohazard materials
Complete cleaning and disinfection of affected areas
Safe transportation of biohazard materials to a licensed medical waste facility
Compliance with local, state, and federal health laws
In worst case scenarios, a victim of the crime or accident is a family member or friend. Our technicians understand this potential loss of a loved one, and always work with the utmost discretion and sensitivity. We restore your property to safe living conditions as quickly as possible, and work with unmarked vehicles to help provide an extra layer of privacy. In the event that law enforcement personnel are needed, we will coordinate our efforts with them.
To get an idea of the types of events our biohazard and trauma scene cleaning services can be used for, please see below:
Unattended deaths
Crime scenes
General biohazard cleaning
Homicides and suicides
Animal deaths
Hoarding scenes
Forensic investigation chemicals
Severe residential and commercial accidents
If you are in need of licensed professional cleaners, and would like to take advantage of our biohazard and trauma scene cleaning services here at ServiceMaster of Albuquerque and West Mesa, please feel free to give us a call at (505) 814-1411. We are available 24 hours a day, and we proudly provide services to property owners in the following cities in Valencia County:
Belen, NM
Bosque Farms, NM
Bosque, NM
Jarales, NM
Los Lunas, NM
Meadow Lake, NM
Peralta, NM
Rio Communities, NM
---
Recent Reviews
Review by

Grady Ramsey
for
Disaster Restoration
Rating

"This is a great company! We had a bad water break in our house while we were out for hours. Called our insurance co Farmers. They sent Service Masters out to clean the water and the mess up. Justin Mason and Shawn Beck showed up, Totally great people and hard workers. Smart and professional people and company! Every move they made was for us and they asked if this is good enough or what else can we do for you. Fantastic!!!!"
---
Review by

Rudy Rios.
for
Disaster Restoration
Rating

"The professionals at Service Master of ABQ west Mesa are probably one of the few companies around today that are "True Professionals".Stellar communication, honest staff and employees, and always on time delivery.Not only was Jesse, the manager, always courteous and well spoken, he made every attempt to satisfy our needs on a mold remediation of a commercial job I am doing.I can recommend this Service Master to do more than you would ever expect."