When property damage occurs, a common secondary effect is a lingering odor. These odors can be harmful depending on the source of the smell, and should always be addressed swiftly. Additionally, homes and offices are built with largely porous materials (i.e. wood, drywall, etc.). These materials, as well as porous personal belongings, can absorb foul odors, and become permanently damaged as a result. Here at RestorationMaster, we provide full odor removal services in Valencia County, NM to eliminate the resulting smells of property damage, and restore your building and belongings to their original condition.
Proven Deodorization Services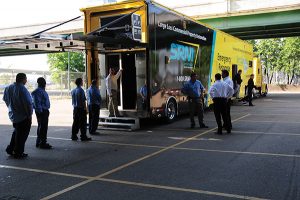 Here at RestorationMaster, we utilize advanced odor removal equipment and methodologies to restore your air spaces, structural elements, furnishings, and belongings. These processes include the following:
Hydroxyl technology
Thermal fogging
Ozone technology
Nano carbon technology
We can remove odors that linger after a fire, severe mold growth, an animal death, water damage, a pet accident, biological activity, and much more. When you choose to take advantage of our odor removal services, you can expect the following from our highly trained personnel:
Swift and Effective Response: We are available 24 hours a day, and will have a team of technicians on-site as quickly as possible.
Initial Inspection: We will perform an inspection in order to identify the sources of any foul odors.
Treatment: Utilizing our findings, we will remove unsavory scents at their source. We do this for structural elements, personal belongings, furnishings, etc.
Air Purification: We treat your air spaces to ensure that your home or office space is safe to reside in once more.
Sealing: We seal any porous surfaces to prevent unpleasant and dangerous smells from returning.
Documentation: We fully document our deodorization process for your records.
While troublesome odors can be the result of a variety of events that cause varying levels of property damage, the most common reasons for the utilization of our odor removal services include:
Odors resulting from fire and smoke.
Musty smells originating from water damage and consequential mold growth.
Biologically based smells.
Whether you are a home or business owner, we encourage you to take advantage of our odor removal services here at RestorationMaster if troublesome aromas are lingering on your property. In some cases, these odors can be harmful to those living in close proximity (for example, mold growth can trigger severe allergic reactions and respiratory infections). We understand that these smells may seem like a mere inconvenience, but they can actually cause great harm to the health of you, your loved ones, or your employees.
If you would like to utilize our deodorization services, please feel free to give us a call at (505) 814-1411. We are available 24 hours a day here at RestorationMaster, and we proudly provide services in the following cities in Valencia County: