The carpet can have a big effect on the look of a home or office and when it becomes dirty or worn out, the room will also look dirty.  Daily foot traffic causes dirt and other debris to gather in the carpet fibers and as the debris accumulates, it effects the look of the carpet and leads to deterioration that could shorten its life.  ServiceMaster SouthWest provides professional carpet cleaning services for homes and businesses in Richmond, TX.  We use advanced cleaning equipment and products that can effectively clean and restore all types of carpeting.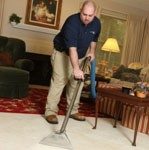 Keeping your carpet cleaned and maintained will not only improve the appearance of the room or office, but also contribute to a healthier environment.  The dirt, dust, and other debris that gathers in the carpet fibers can find its way back into the breathing air and lower the indoor air quality which could trigger allergies or infection.  Our cleaning equipment removes debris from deep in the carpet fibers to help improve the indoor air quality as well as remove spots and stains to restore the appearance of the carpet.  The complete carpet cleaning services we provide include the following:
Inspection of the carpet to decide on the most effective cleaning method.
Pre-treatment of spots and stains.
Pre-application of shampoo to loosen embedded debris.
Thorough rinsing with clean, hot water.
Post-treatment for tough stains.
Grooming of the carpet fibers to improve drying and appearance.
Use of pads under furniture legs to protect the carpet.
Final inspection done with you to make sure you are satisfied with our work.
ServiceMaster SouthWest offers carpet cleaning services as a one-time service for homes and businesses and we also offer regularly scheduled carpet cleanings for businesses that want their carpets maintained more consistently.
If you think the carpet in your home or business in Richmond, TX could benefit from professional cleaning services, contact ServiceMaster SouthWest.  Our state-of-the-art equipment and advanced cleaning products can effectively clean any type of carpeting in commercial or residential settings.  You can call us at (281) 247-3113 to schedule a carpet cleaning appointment.
---
Related Carpet Cleaning Services
Carpet Cleaning in Stafford, TX 
Carpet Cleaning in Sugar Land, TX