ServiceMaster SouthWest
ServiceMaster SouthWest has been the leading provider of heavy cleaning and disaster restoration services to Stafford TX and the greater Houston metropolitan area.  We are industry certified in fire and water damage restoration, cleaning, and pack out services and employ technicians and staff that have been trained and certified to handle cleaning and restoration jobs in residential and commercial settings.  We are available 24 hours a day at (281)247-3113.
---
COVID-19 Preventive Cleaning, Disinfection & Decontamination Services
ServiceMaster SouthWest provides decontamination and disinfection services in Stafford TX, SouthWest Houston, Fort Bend County area to help prevent the spread of the coronavirus in commercial buildings. We have invested heavily in the latest preventive cleaning technologies to make sure that we offer the highest level of cleaning and decontamination services fast. For infection control our technicians use the best cleaning products and disinfectants available to clean and sanitize high touch point areas and kill germs that cause the coronavirus and other diseases. Choose ServiceMaster Preventive Cleaning and Decontamination Services – call today!
---

Fires can cause severe damage to a home or building and if the fire and smoke damage left behind is not restored right away, that damage could become permanent.  ServiceMaster SouthWest provides fire and smoke damage restoration services to homes and businesses in Stafford, TX.  With these services, we can repair the damage caused by fire, soot, and smoke to restore your home back to its previous condition as soon as possible.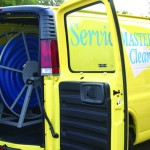 Water damage can cause many problems for a homeowner and can sometimes even occur undetected or with very little warning.  ServiceMaster SouthWest provides water damage mitigation to remove standing water or excess moisture and repair the damages it caused.  It is important to contact us for water damage restoration as soon as it is discovered because it could lead to further damage or mold growth if it is ignored.
Violent crimes and trauma scenes are an unfortunate reality that some of us may have to deal with and if a trauma scene involves biohazard materials, it requires specialized, professional clean up.  ServiceMaster SouthWest provides crime and trauma scene cleaning services to properly clean up trauma scenes involving biohazard materials and restore the area to its previous condition.  Our technicians are certified to remove biohazard materials without jeopardizing the crime scene.
Many trauma scenes such as injuries, accidents, or death involve biohazard materials such as blood or bodily fluids that must be removed by a certified professional.  ServiceMaster SouthWest provides biohazard cleanup services to safely remove all biohazard materials from a trauma scene.  It is important that experienced professionals perform biohazard cleanup because these materials contain harmful toxins or viruses that could spread disease or infection if they are not handled properly.
---
Related Disaster Restoration and Cleaning Services
Restoration and Cleaning Services in Sugar Land, TX
Disaster Restoration and Cleaning in Richmond, TX 
Restoration and Cleaning Services in Missouri City, TX 
March 3, 2021
Kayler Williams
Houston, TX
I appreciate good customer service and Service Masters stands up to that! They call and advise you when they will arrive and they are on time. The service guys are very polite, courteous and clean up very well after removing what is damaged. I have used other companies, which they were ok, but this one, I will give them a 10! I would recommend this service. Good customer service is hard to time. Keep up the good work and service.