The furniture in a home or office experiences consistent daily use which over time can cause the upholstery fabric to diminish in appearance and wear out at the seams.  ServiceMaster SouthWest provides upholstery cleaning services to help homeowners and business owners in Stafford, TX clean and restore their furniture to improve its appearance and longevity.  Our advanced cleaning equipment can safely clean and restore all types of upholstery fabric.
Much like carpeting, the upholstery on your furniture can gather dirt and debris that can actually destroy the fabric because of its abrasiveness.  The direct daily contact that causes dirt and soil to become embedded in the fabric can also cause it to be abrasive to the surface, leading to deterioration very quickly.  Our technicians have the products, equipment, and expertise necessary to effectively clean the upholstery on all furniture types.  We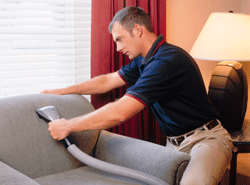 also use cleaning agents that are effective for removing various spots and stains from the upholstery fabric.
The upholstery cleaning service we offer includes:
Initial Vacuuming
Spot Treatment
Shampooing
Frame Polishing
If your furniture is affecting the appearance of your home or office in Stafford, TX 77477 or Houston area, contact ServiceMaster SouthWest for professional upholstery cleaning services.  We can safely and effectively deep clean all types of upholstery fabric using the best cleaning equipment available in the industry.  We can be reached at (281)247-3113 for more information about our upholstery cleaning services.
---
Related Upholstery Cleaning Services
Furniture and Upholstery Cleaning in Sugar Land, TX 
Upholstery Cleaning Services in Richmond, TX