Unfortunately accidents happen on a daily basis and a serious accident involving biohazard materials can happen without warning.  Biohazard materials are biological substances such as blood or bodily fluids that require specialized clean up services because they could spread infection and disease if they are not properly removed.  ServiceMaster SouthWest provides biohazard removal and cleanup services in Safford, TX 77477 area to safely and effectively remove biohazard materials.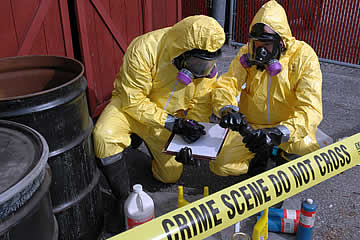 Professional Biohazard Remediation
In situations involving biohazard materials, you must call a certified professional for cleanup because these materials contain dangerous viruses or toxins that will spread disease if the right precautions are not taken.  Improper cleaning can also cause cross contamination of nearby unaffected areas.  The technicians of ServiceMaster SouthWest have been specially trained and certified to safely remove biohazard materials and effectively restore the area to its previous condition.  Our biohazard removal services cover the following situations:
Blood Clean Up
Injury Clean Up
Vehicle Blood Cleanup
We begin our biohazard cleaning services by disinfecting, deodorizing, and sanitizing the area before safely transporting the materials to a licensed facility for disposal.  If you need professional biohazard cleanup services in Stafford, TX 77477 area, contact ServiceMaster SouthWest at (281)247-3113.  We are available 24 hours a day to respond to emergency situations.
---
Related Biohazard Cleaning Services
Biohazard Cleanup in Sugar Land, TX
Biohazard Cleaning in Richmond, TX