The carpet in a home or business experiences the most use of any other furnishing which causes more general wear and tear and diminishes its appearance.  ServiceMaster SouthWest offers carpet cleaning services to homes and businesses in Stafford, TX to help improve the look and the life of your carpet.  We offer one time scheduled cleanings as well as regularly scheduled carpet cleanings for businesses who want their carpet consistently maintained.
In addition to carpet cleaning we provide professional Upholstery Cleaning and Hard Floor Cleaning Services.
Carpet Cleaning Services for Stafford, TX
The carpet is one of the first things people notice in your home so maintaining a clean carpet is a great way to improve the appearance of your home's interior.  Dirt and other debris become embedded in the carpet overtime which can affect its appearance and cause the fibers to deteriorate.  Our carpet cleaning services will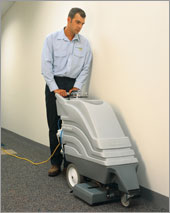 remove deeply embedded debris as well as spots and stains to restore the original look of your carpet.  Our complete carpet cleaning process includes:
Initial inspection of the carpet to decide on the best cleaning method.
Pre-treatment for spots and stains.
Pre-application of shampoo to loosen embedded dirt.
Rinsing of the carpet with clean hot water.
Post-treatment for residual stains.
Grooming of the carpet to help with drying and appearance.
Protection of the carpet using pads under all furniture legs.
Final inspection done with you to ensure your satisfaction.
Before your carpet becomes dirty or worn out, contact ServiceMaster SouthWest for professional carpet cleaning services in Stafford, TX.  We offer one time carpet cleaning services for homes as well as regularly scheduled carpet cleanings for businesses to keep their floors clean on a regular basis.  Contact us at (281)247-3113 for more about our carpet cleaning services.
---
Related Carpet Cleaning Services
Carpet Cleaning in Sugar Land, TX 
Carpet Restoration in Richmond, TX