When a violent crime or serious accident occurs that involves an injury or death, it is easy to get overwhelmed by the situation but it is very important to make sure the right actions are taken.  These scenes often contain blood, bodily fluids, and other biohazard materials that require specialized cleanup, and if a crime has been committed, law enforcement must be alerted to investigate the scene.  ServiceMaster SouthWest provides trauma scene cleaning services in Richmond, TX to remove dangerous biohazard materials and restore the scene.  In cases involving a violent crime, we will work in cooperation with law enforcement as they complete their investigation.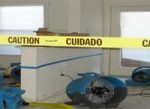 Effective Trauma Scene Cleaning
The technicians of ServiceMaster SouthWest have the specialized certification and training to safely clean and restore trauma and crime scenes.  We use the best cleaning products and equipment available including personal protective equipment (PPE) and the tools needed to safely remove and dispose of biohazard materials.  Our complete trauma and crime scene cleaning services include the following process:
Decontamination: We will completely remove blood, tissues, and other dangerous biohazard materials and decontaminate the entire area.
Odor Removal: All lingering odors are removed with our deodorizers.
Proper Disposal: We will safely transport biohazard materials to a facility that is licensed for safe disposal.
Continuous Monitoring: We can finish the work efficiently in a timely manner with good communication and quality control.
Insurance Assistance: We can help you coordinate claims with your insurance provider.
Family Assistance and Support: We can put grieving family members and friends in touch with counseling professionals to provide emotional support.
Certified Technicians: Our technicians are highly trained and certified to provide trauma and crime scene cleaning services in compliance with local, state, and government regulations.
ServiceMaster SouthWest understands that trauma and crime scenes are emotionally sensitive situations and we approach each case with a sense of compassion and work discreetly to help protect your privacy.  If you need trauma or crime scene cleaning services in Richmond, TX, do not hesitate to call us.
---
Related Trauma Scene Cleaning Services
Trauma Scene Cleanup in Stafford, TX 
Trauma Scene Cleanup in Sugar Land, TX 
---
Recent Reviews
Review by

J.D.


Rating

"Everyone was very professional, friendly and helpful. This is the best "moving" experience I've had with a company. The employees were very honest – all the loose cash, gold/silver jewelry, all came back."
---
Review by

T.T.
Rating

"They did a great job cleaning our parents' home. I would recommend their service to friends and I would use their service again in the future."
---
Review by

D.S.
Rating

"Very thorough, very polite. Excellent service. If I need service in future I will call your service."
---
Customer Reviews