RestorationMaster
Water Damage Related Info
One of the most common causes of property damage is excess water or moisture and if it is not removed right away, it will spread further throughout a home or building and cause significant structural damage or mold growth.  Rain, flooding, plumbing leaks, humidity, and burst pipes are all potential causes of water damage that must be dealt with immediately.Your local RestorationMaster partner provides water damage restoration services in Richmond, TX to remove excess water and restore the damage.  Our quick response allows us to effectively mitigate the damage and get your home restored before sustaining widespread damage or mold.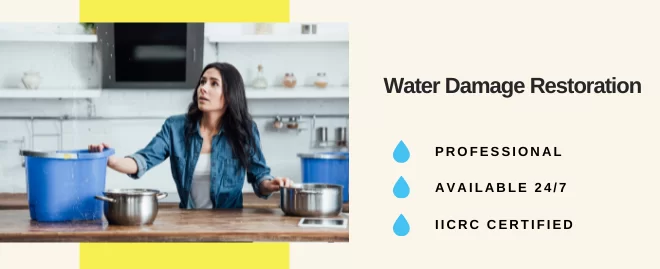 Flood Clean Up and Water Damage Repair Services
Our technicians are highly trained, equipped, and insured to clean up water damage in any commercial or residential setting regardless of the extent of the damage.  The cleaning products and equipment we use are the most advanced available in the industry and allow us to provide these specific water damage restoration services:
Drying, Dehumidification, and Water Extraction
Document Drying and Recovery
Building and Content Cleaning
Carpet, Rug, and Upholstery Cleaning
Mold Removal
HVAC Duct Cleaning
Antiques and Fine Art Restoration
Electronic Equipment Restoration
Furniture Refinishing
Biohazard Cleaning
Commercial and Residential Water Damage Mitigation
Water damage should never be ignored because of its ability to spread through absorbent building materials so contact your local RestorationMaster partner as soon as you notice any water damage.  After contacting us, you can take these actions to help limit the spread of the damage:
What to Do After Water Damage
Call RestorationMaster immediately to avoid mold growth and extensive structural damage.
Mop or blot dry excess water.
You can remove wet area rugs and other floor coverings but leave permanent flooring or carpeting to the professionals.
Put drapes through a coat hanger and put the hanger on the rod to keep the drapes off the wet floor.
Wipe excess water from furniture, prop up the cushions to dry evenly, and put aluminum foil under the legs.
Move paintings, photos, and other similar objects to a safe location.
Pack water damaged books tightly together on their shelves to prevent the pages from warping until we can dry them with our specialized process.
Open up cabinet doors and drawers as well as internal doors to help the drying process.
What NOT to Do After Water Damage
Do not enter a room with standing water if the power has not been shut off.
Do not use a vacuum cleaner to try and remove water.
Do not use electrical appliances if you are standing on a wet floor.
Do not attempt to clean up mold growth.
If there is water damage in your home or building in Richmond TX, contact your local RestorationMaster partner for water damage restoration services.  We are ready to take your call 24 hours a day at (281) 612-8739 to respond quickly to water damage restoration emergencies in Richmond, TX.
---
Related Water Damage Restoration Services
Water Damage Cleanup in Stafford, TX 
Water Damage Restoration in Missouri City, TX 
Water Damage Restoration in Sugar Land, TX