(409) 895-2588
Mold growth in a home or business should be taken very seriously. It will spread if not treated, and if it gets inside walls, it gets harder and more expensive to eradicate. Not only does mold cause damage to building elements like drywall and wood, but it causes respiratory problems. People with compromised immune systems, allergies or respiratory issues are especially vulnerable.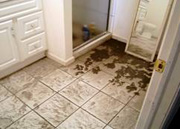 That's why it's so important to call the experts at ServiceMaster Recovery Services by TLC at the first sign of mold in Port Arthur, TX. Mold remediation is not a do it yourself project. Proper equipment and cleaning products must be used, and commercially available ones aren't up to the job. Even more important, proper protective gear must be worn during the cleanup process, both to protect the cleaning staff and to prevent mold from being spread to unaffected areas. Our professionals have the proper training, equipment, cleaning products and protective gear to get the job done right the first time.
Mold grows in areas of high humidity and moisture, such as flooded basements. ServiceMaster Recovery Services by TLC will remove the excess humidity and moisture, as well as find the original source of the water and repair it so it won't happen again. We'll be on site within 2 hours of your call to contain the mold to the affected area and begin the cleanup and restoration process. We also test for hidden mold in walls and ceilings.
ServiceMaster Recovery Services by TLC's 5 step mold remediation process includes:
Complete assessment of the damage
Written remediation plan based on the assessment
Isolation of the contaminated area to prevent further spreading
Removal of all mold and repair or replacement of affected surfaces
Report to your insurance company
Here are a few tips to prevent mold growth in your home:
If you find a water leak or have excess moisture, repair it as quickly as possible.
Open doors and windows for fresh air on warm days with low humidity.
Use air conditioning and dehumidifiers to keep indoor humidity low.
Make sure your home has good ventilation.
Never try to clean mold yourself. Without proper protective equipment, you're exposing yourself to toxic spores that can cause respiratory problems. Spraying bleach or other disinfectants will only disperse the spores and painting over them doesn't do anything.
If you find mold in your home or business in Port Arthur, TX, immediately call the professionals at ServiceMaster Recovery Services by TLC 24 hours a day, 7 days a week at (409) 895-2588.
---
Related Mold Remediation Services
Mold Remediation in Orange, TX
Mold Removal in Westlake and Lake Charles, LA 
Mold Remediation in Bridge City and Beaumont, TX