(409) 895-2588
Excessive moisture will always cause mold, especially in areas that aren't exposed to sunlight or fresh and dry air. That's why mold is almost always present in areas that have been recently flooded or have sustained water damage. Most people underestimate this problem and try to use DIY techniques to remove the fungus from their walls, floors, and carpets. Unfortunately, these techniques aren't as effective as professional solutions so they don't completely kill the mold. At ServiceMaster Recovery Services by TLC, we encourage clients to let professionals handle the task. We provide complete mold removal and mold remediation services for homes and businesses in Orange, TX.
Causes of Mold Growth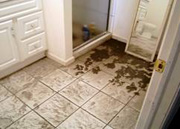 Mold growth can stain your walls and floors, spread a musty odor throughout the home, and compromise the structural integrity of your drywall. Mold can happen for a variety of reasons, including:
Excessive Moisture
Floods (Natural and Basement)
Leaking Pipes
Water Damage
Inefficient Air Conditioning Systems
We will repair these problems after we perform the mold remediation. This will remove all sources of excess moisture to ensure mold doesn't return. We use the latest restoration technology and tools to ensure the root cause of the problem is eliminated.
How Can We Help?
We have a simple yet efficient system designed to address the problem of mold permanently and make sure that your home has a healthy environment once again. Here's what our team will do when they arrive on your property.
They'll carefully comb through all damp areas of your property and assess the damage.
We will then send this assessment report to your insurance company.
After the insurance company is informed, we identify all areas that are infested by mold and determine the extent of the damage.
We'll then provide a written mold remediation plan and explain the details to you.
Once you agree to the plan, we'll remove all the mold and mildew from your property using tried and tested methods and solutions. After the completely mold removal, we'll repair any damaged items or install replacements.
Our mold cleaning services are thorough and well-planned so you can be certain we won't miss a spot which could allow the mold to come back.
At ServiceMaster Recovery Services by TLC, we'll be happy to answer any questions and queries you might have about our mold removal and mold remediation services here in Orange, TX. All you need to do is call us at (409) 895-2588 and we'll be happy to help in every way possible.
---
Related Mold Remediation Services
Mold Removal Services in Westlake and Lake Charles, LA 
Mold Remediation in Bridge City and Beaumont, TX 
Mold Remediation in Port Arthur, TX