(409) 895-2588
Fire leaves behind a considerable amount of damage in its wake. Active flames will compromise the structural integrity of your walls, floors, and ceilings but the damage doesn't end after the fire is extinguished. Soot and smoke also cause havoc on your property. They'll permanently tarnish and etch your floors, walls, and furniture if they're left unattended for long. At ServiceMaster Recovery Services by TLC, we've worked on several fire, soot, and smoke restoration projects over the years and know how to handle the task well. We can provide complete soot and smoke damage restoration services for homes and businesses in Orange, TX.
Why Do You Need Soot Removal and Smoke Restoration?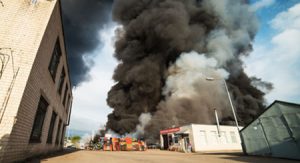 Smoke and soot linger for a long time after the fire is extinguished and can get into all corners and crevices on your property. Once they settle, they can cause permanent staining and damage to delicate personal items like:
Aluminum surfaces and trinkets
Marble countertops, floorings, and tables
Porcelain tiles and decorative pieces
Brass figurines and decorative items
Stainless Steel utensils, countertops, and appliances
Carpets, rugs, and upholstery
Cushions, couches, and sofas
If the soot and smoke isn't cleaned immediately, it will settle on these surfaces and you'll be forced to purchase replacements.
How Can We Help You?
We've been a part of this industry for a long time and know how to handle smoke and soot cleaning. We'll make sure your home is clean and habitable once again and correct all the damage the fire caused. Here's a brief description of what we'll do:
Soot Removal – We'll remove all traces of soot from your property and clean hard-to-reach places. Our technicians will move furniture around to make sure they don't miss anything.
Cleaning and Disinfecting – Our next step is to clean and disinfect all surfaces in your home to make sure it's completely free of fire and water damage. Our technicians will also carry out restoration work if required.
Deodorizing – The smoke odor can settle into carpets and furnishings, as well as floors. This odor can linger for days and can make your living environment very uncomfortable. Household deodorizers and fragrances can't eliminate the odor; you need something stronger and more sophisticated. Our technicians will use hydroxyl, ozone, or Nano carbon technology to remove odors completely. They'll then take preventive measures to ensure the smoke odor doesn't return.
Don't hesitate to contact us at ServiceMaster Recovery Services by TLC if you have experienced soot and smoke damage in your home or business in Orange, TX. We can effectively remove soot damage from affected surfaces and eliminate smoke odors. You can call us at (409) 895-2588 at any time and we'll be happy to help.
---
Related Soot Removal and Smoke Restoration Services
Smoke and Soot Damage Restoration in Westlake and Lake Charles, LA 
Smoke and Soot Damage Restoration in Bridge City and Beaumont, TX 
Smoke and Soot Damage Restoration in Port Arthur, TX