(409) 895-2588
Fire is a very powerful force and it can wreak havoc on your property. While modern homes and structures are made from resilient materials, fire can still cause considerable damage and weaken the structure. Your home is unlivable unless it's cleaned and restored and we at ServiceMaster Recovery Services by TLC can help. We provide complete fire damage restoration services in Orange, TX to restore homes and businesses that have experienced a fire.  Our restoration services will help prevent permanent damage and get your home or building back to its previous state.
Call Us Immediately!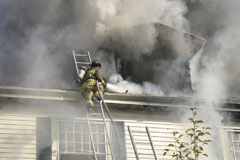 It's vital to address fire damage as soon as the property is cleared by the fire department. Fire leaves behind smoke, soot, and corrosive substances that'll continue to cause damage to your property. These substances can permanently tarnish and etch drywall, floors, and furniture so it's important to clear them right away. Our expert cleaners will arrive at your doorstep within 2 hours to assess the damage and carry out the repairs immediately.
Our Five-Step Fire Damage Clean-Up Process
We have devised and perfected a five-step clean-up process that works well and delivers the best and quickest results to our clients. The process includes the steps mentioned below. You can ask our fire damage clean-up experts for more information on the process.
Emergency pre-cleaning – We will assess the damage and remove all items that can be removed safely. After we've analyzed the damaged area, we'll come up with a clean-up strategy and start working on your property.
Content cleaning – Our next step is to clean the contents of the burnt room, including attachments that can be removed and must be restored on site. We'll remove the soot, clear smoke, and dispose any item that's damaged beyond repair.
Content pack-out – We'll remove all items that can be moved and transport them to a different location for restoration and clean-up. This allows us to clean the items thoroughly and make sure they look as good as new.
Wall and ceiling cleaning – Walls and ceilings tend to sustain the most damage during a fire. They also sustain water damage when the fire is put out and can be susceptible to mold. We'll carefully remove all moisture and fire residue from the walls before we move on to the next step.
Deodorization – Our final step is deodorization. This process will remove the stench of fire or smoke, burnt rubber, plastic, and other such items from your property.
If your home or business has been damaged by a fire in Orange, TX, contact us as soon as possible to help contain and restore the damage. Our customer service experts will be happy to answer any questions you might have about our fire damage cleanup services at ServiceMaster Recovery Services by TLC. All you need to do is call us at (409) 895-2588 and we'll be happy assist you.
---
Related Fire Damage Cleanup Services
Fire Damage Restoration in Westlake and Lake Charles, LA
Fire Damage Cleanup Services in Bridge City and Beaumont, TX 
Fire Damage Restoration in Port Arthur, TX