No one is ever prepared for the devastating destruction of a fire that can cause significant damage to your home and personal belongings while also threatening the safety of you and your family.  However, it is important to know how to react in the event of a fire to keep your family safe and help prevent extensive damage to your property.  ServiceMaster Recovery Services by TLC provides fire damage restoration services in Westlake and Lake Charles, LA to clean up and restore homes and buildings that have sustained fire damage.  The byproducts of a fire such as chemical emissions and soot will continue to cause damage after the fire is out so do not hesitate to call us to limit the damage.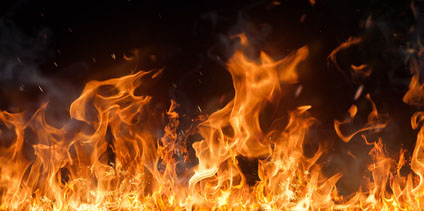 There are plenty of synthetic materials in your home that produce corrosive byproducts and chemical emissions when burned that can result in dangerous fumes, and the soot will continue to settle after the fire and cause etching and tarnishing on delicate surfaces.  This type of damage can become permanent within a few days which makes it important to call for fire damage restoration immediately.  Our technicians can clean and repair fire damaged furnishings, content, and structural elements in commercial and residential settings using the best cleaning equipment and products of the industry.  We can salvage delicate household surfaces including brass, marble, aluminum, porcelain, tile, stainless steel, carpeting, and upholstery from soot damage as well with different combinations of chemical cleaners.
Our fire damage restoration services include these five steps:
Emergency pre-cleaning
Content cleaning
Content pack-out
Wall and ceiling cleaning
Odor removal
What to Do After a Fire
Call ServiceMaster TLC once the fire is out because soot and corrosive byproducts can quickly cause permanent damage.
If the outside temperature is above 60 degrees, open the doors and windows of your home to help air out the smell.
Prevent permanent tarnishing by cleaning Formica, chrome, aluminum, and porcelain fixtures.
If your furnace runs on forced hot air, change the air filter.
Dispose of all open food packages.
Tape a damp cheesecloth over each return and supply register to capture loose soot from the air.
Thoroughly clean the inside of your refrigerator and leave the door open to dry.
Submit your smoke damaged clothing to a professional that can provide restoration dry cleaning services.
What NOT to Do After a Fire
Do not touch soot damage on woodwork, upholstery, or drywall because the natural oils in your hand will penetrate these surfaces to make the damage worse.
Do not wash soot damaged walls because improper cleaning techniques will compound the soot residue.
Do not try to clean your carpet or upholstery yourself, a professional should handle these tasks.
Get electrical appliances inspected for safety before using them.
Do not use ceiling fixtures if the ceiling is wet.
Fire damage will only get worse the longer it is not taken care of so do not hesitate to call ServiceMaster Recovery Services by TLC for fire damage restoration in Westlake and Lake Charles, LA.  We respond quickly to limit the damage and begin the restoration before the tarnishing and etching become permanent.  You can call us 24 hours a day at (337) 656-0443 if your home or building in the Lake Charles, LA area has sustained fire damage.
---
Related Fire Damage Restoration Services
Fire Damage Cleanup Services in Bridge City and Beaumont, TX 
Fire Damage Restoration in Port Arthur, TX 
Fire Damage Cleanup Services in Orange, TX