Mold growth is a menace in homes and buildings because it has the potential to spread and cause extensive damage and it increases the risk of certain health effects such as allergies and infection.  Spores will turn into mold when they find a moisture source and a food source such as wood or drywall and it sometimes forms in hidden areas that are very difficult to detect.  ServiceMaster Recovery Services by TLC provides mold removal services to remove mold and restore the damage for homes and businesses in Westlake and Lake Charles, LA.  We have the right equipment and training to provide mold remediation for contaminations of any size.
Excess water or moisture is usually the trigger that causes mold growth and over time, mold can cause permanent damage to the surfaces it has grown on and negatively affect the indoor air quality.  We arrive on the scene within 2 hours of your call with the most advanced cleaning products and technology of the industry to completely remove mold and address the moisture problem that caused the growth.  It is possible to restore structural elements, furnishings, and personal content affected by mold with a quick enough reaction so do not wait to call for mold remediation.  Our technicians will isolate the affected area to prevent the mold from spreading to the rest of the building and we can also find hidden mold with our testing equipment.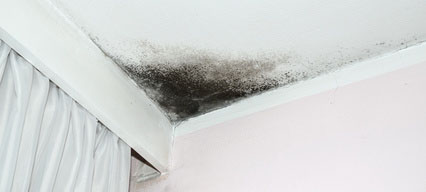 The mold removal services we provide include the following:
Total assessment of the scope of the damage
Report of our assessment to your insurance provider
Containment of the mold to the affected area
Creation of a written remediation plan based on the assessment of the damage
Removal of mold growth and restoration of the damaged surfaces
What to Do After Mold Growth
Contact ServiceMaster Recovery Services by TLC for mold removal services right away to contain the damage.
Fix the source of the moisture if you can and dry wet surfaces.
Open the windows and doors for fresh air.
Protect yourself with non-porous gloves and eye wear.
Use an air conditioner or dehumidifier to control humidity levels.
Make sure your home has adequate ventilation.
What NOT to Do After Mold
Do not attempt to kill the mold because dead mold spores are just as harmful to your health.
Avoid using bleach or chemical cleaners to remove mold because this will cause the dispersal of more spores.
Never paint or caulk over surfaces with mold growth.
Disturbing mold growth will cause more spores to be released so leave it to the professionals.
Once you discover mold in your home or building, it is important to call for mold removal or the mold could spread further and increase the potential for negative health effects.  ServiceMaster Recovery Services by TLC can provide complete mold removal services for homes and businesses in Westlake and Lake Charles, LA with the best in remediation technology and cleaning products.  Our phone lines are open 24 hours a day at (337) 656-0443 to respond to your mold remediation needs.
---
Related Mold Removal Services
Mold Remediation Services in Bridge City and Beaumont, TX
Mold Remediation in Port Arthur, TX
Mold Remediation Services in Orange, TX