The sight of mold growth is one of the last sights a homeowner or business owner wants to see because it can cause significant property damage, contribute to a musty odor, and lead to a variety of potential health issues in those that are exposed.  Mold is most likely to grow in areas with moisture or high humidity and it will continue to spread on organic materials such as wood and drywall unless it is removed.  ServiceMaster Recovery Services by TLC provides mold remediation services to remove mold growth from homes and businesses in Bridge City and Beaumont, TX.  Our technicians are trained and equipped to handle any size or scope of mold remediation emergencies.
Mold growth may form as a result of excessive moisture, water damage, leaking pipes, and unbalanced air conditioning systems and it can heavily damage the surfaces it grows on as well as contribute to poor indoor air quality.  Our technicians respond within 2 hours of your call to remove the mold growth and repair the moisture source using the latest in restoration technology and equipment.  Pretty much all structural items and most personal items and furnishings can be restored if you call for mold remediation quickly enough.  We start by containing the current mold growth to the area already affected and we can also test for hidden mold behind walls and ceilings.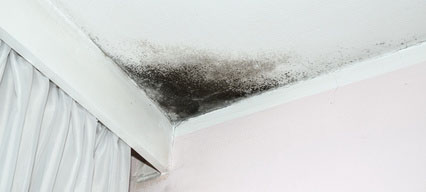 Our mold remediation services include these basic steps:
The assessment is reported to your insurance company
We isolate the affected area and determine the scope of the damage
We prepare a written remediation plan based on our assessment
We remove all mold growth and repair or replace the damaged surfaces
What to Do After Mold Growth
Call ServiceMaster Recovery Services by TLC immediately for mold remediation services before it spreads.
Fix all plumbing leaks and moisture problems as quickly as possible and thoroughly dry all items.
Open windows and doors for fresh air.
Wear non-porous gloves and protective eye wear.
Try to keep humidity levels as low as possible with air conditioning or a dehumidifier.
Ensure that your home has good ventilation.
What NOT to Do After Mold Growth
Do not try to kill the mold, dead mold spores are as harmful as living mold spores.
Do not treat the mold growth with bleach or any other chemical because this will cause the mold to disperse its spores.
Do not paint or caulk over moldy surfaces.
Do not disturb mold growth because this could cause the release of mold spores and further contamination.
Mold growth should never be ignored so if you find mold in your home or building in Bridge City or Beaumont, TX, contact ServiceMaster Recovery Services by TLC for mold remediation services.  We are equipped to provide a full range of mold remediation services and we offer free estimates.  You can reach us 24 hours a day at (409) 895-2588 for more information about our mold remediation services.
More information on The Main Sources of Moisture in a Flooded Basement
---
Related Mold Remediation Services
Mold Removal Services in Westlake and Lake Charles, LA 
Mold Removal in Port Arthur, TX
Mold Remediation Services in Orange, TX