(409) 895-2588
Water damage can be caused by so many internal and external factors in a home or building and all cases of water damage, regardless of size, can become an emergency if the situation is not immediately addressed.  Flooding, rain, plumbing leaks, burst pipes, and sewage backups are all potential causes of water damage and calling a professional for restoration will stop the spread of the excess water, reduce the potential for mold growth, and reduce the time and money needed to restore the building to its previous condition.  ServiceMaster Recovery Services by TLC provides water damage restoration services for homes and businesses in Bridge City and Beaumont, TX.  We arrive within 2 hours of your call to limit the damage and we provide free estimates for this service.
The technicians of ServiceMaster TLC use the latest equipment and technology in water damage restoration to remove excess water from any commercial or residential setting and we can repair and restore most affected structural elements, furnishings, and content.  Our goal is to minimize property damage by limiting the spread of the water and our advanced drying equipment will thoroughly remove excess water and moisture and help prevent mold or mildew growth.  The average water damage restoration project takes about 3 days to complete and we can work with most insurance providers to guide you through the claims process.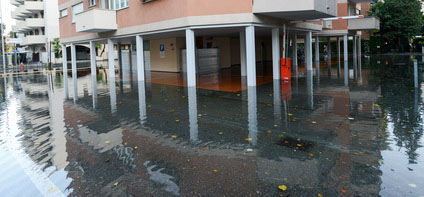 Our water damage restoration services include the following phases:
Emergency Response: We fully inspect the area and make an assessment of the damage.
Water Removal and Drying: We remove all water and moisture and thoroughly dry furnishings, content, and structural elements.
Reinstallation and Cleaning: We will reinstall anything that was removed for the restoration and clean up the mess.
What to Do After Sustaining Water Damage
Excess water can cause significant damage and mold growth within hours, call ServiceMaster TLC immediately for water damage restoration.
Mop and blot dry to remove as much water as possible.
Remove non-permanent floor coverings such as area rugs but do not try to remove permanent carpeting or flooring without professional assistance.
Keep draperies off the floor by putting them through a coat hanger and putting the hanger on the drapery rod.
Wipe off wet furniture, prop the cushions up to dry evenly, and put aluminum foil under all furniture legs.
Put photos, paintings, and other similar objects in a dry, safe location.
Keep books on their shelves and pack them together tightly to avoid warping, we can treat them with our specialized drying process.
Open all internal doors as well as drawers and cabinet doors to help with the drying.
What NOT to Do
Do not walk into a room with standing water unless the power is shut off.
Do not remove water with a regular vacuum cleaner.
Do not remove permanent carpeting without professional assistance.
Do not use electrical appliances while standing on a wet floor.
Do not try to remove mold growth.
Once you notice water damage in your home or building, contact ServiceMaster Recovery Services by TLC for water damage restoration in Bridge City and Beaumont, TX.  You can call us 24 hours a day at (409) 895-2588 to respond to your water damage emergencies within 2 hours and provide a free estimate.
More information of "The Main Sources of Moisture in your Flooded Basement".
---
Related Water Damage Restoration Services
Water Damage Restoration in Westlake and Lake Charles, LA
Water Damage Restoration in Port Arthur, TX
Water Damage Restoration in Orange, TX