(409) 895-2588
Very few people want to deal with the aftermath of personal tragedies like accidents, suicides, and murders. They don't want to think about clean-up and other such practical concerns. Unfortunately, trauma scene cleaning can't be put off because blood, bodily fluids, and tissue matter will decompose over time and they harbor dangerous, disease causing pathogens. We at ServiceMaster Recovery Services by TLC, can help with our biohazard and trauma scene cleaning services in Orange, TX.
Why Call Professionals?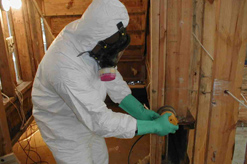 You shouldn't clean up the biohazard materials yourself because you might not know which safety measures to use. If you allow those pathogens to linger and don't clean the biohazard materials properly, the environment in your home will become unhealthy. A professional that is licensed to provide biohazard cleaning will help you avoid that. Here are some reasons why you should hire us:
Professional cleaners like us have specialized training. We know how to handle biohazard materials carefully and not place our health at risk during the clean-up.
Our team also knows and understands all government rules regarding cleaning and disposal of biohazard materials. They'll follow all state health and OSHA regulations when they perform the clean-up.
We use the latest and most effective cleaning tools and agents to ensure all pathogens are eliminated from the trauma scene.
Our technicians will wear personal protective equipment during the bio clean-up.
What Can You Expect From Us?
We understand that trauma-scene clean-ups require delicate handling as it's a sensitive time for our clients and their families. Our technicians have years of experience in this industry so they know how to handle the job well. Here's what you can expect from our experts when they arrive at your location:
Our cleaners will come in plain vehicles with all of their equipment at hand. We arrive immediately after the authorities and medical personnel have cleared the scene for clean-up.
Our technicians are discreet and respectful. They'll carry out their work quietly and ensure your home has no traces of biohazard materials left.
We'll transport and dispose of all the waste materials responsibly at state approved locations.
Our technicians will deodorize and sanitize your home to ensure your living environment is healthy and free of deadly pathogens.
If a traumatic event that involves biohazard materials occurs on your property in Orange, TX, contact ServiceMaster Recovery Services by TLC for our biohazard cleaning services. You can call us 24 hours a day at (409) 895-2588 to respond to your emergencies.
---
Related Biohazard and Trauma Scene Cleaning Services
Biohazard and Trauma Scene Cleaning in Westlake and Lake Charles, LA
Biohazard and Trauma Scene Cleaning in Bridge City and Beaumont, TX 
Biohazard and Trauma Scene Cleaning in Port Arthur, TX