(409) 895-2588
A trauma scene is an upsetting sight, even if you don't know the victim. Blood, tissue and other biohazards must be handled carefully to avoid spreading disease. Sometimes trauma scenes are also crime scenes and touching the wrong thing can compromise the investigation. Commercially available cleaners and equipment aren't strong enough to clean and sanitize the scene and after a trauma, the last thing family and friends need to deal with is cleanup.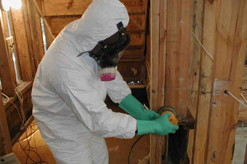 That's why the caring professionals at ServiceMaster Recovery Services by TLC offer biohazard and trauma scene cleanup services to clients in Port Arthur, TX. We'll clean, sanitize and restore trauma scenes and remove all biohazards in approved containers to a licensed facility for legal disposal. All of our work is done discreetly and confidentially, and we treat our clients with compassion in their time of need. Our biohazard cleaning services are effective for the following:
Crime scenes
Major injuries
Homicides and suicides
Unattended death scenes
Hoarding cleaning
Paint and chemicals
Sewage backups
Mold or mildew
We work with law enforcement authorities every step of the way so we can get the job done without compromising any investigation. If necessary, we can arrange professional counseling for family and friends who are having a tough time. At ServiceMaster Recovery Services by TLC, restoring our clients' mental health is just as important to us as restoring their home.
Our trauma and crime scene cleaning services include:
A compassionate approach from our staff
Removal of all biohazard materials and complete cleaning and disinfection of the area
Disposal of biohazard materials at a licensed medical waste facility
Compliance with local, state, and federal safety regulations
Family and friends have enough things to do after a trauma that only they can do. Let the caring, compassionate professionals at ServiceMaster Recovery Services by TLC take on the burden of cleanup and restoration. We're available 24 hours a day, 7 days a week at (409) 895-2588 to help out in your time of need.
---
Related Biohazard and Trauma Scene Cleaning Services
Biohazard and Trauma Scene Cleaning in Orange, TX
Biohazard and Trauma Scene Cleaning in Westlake and Lake Charles, LA 
Biohazard and Trauma Scene Cleaning in Bridge City and Beaumont, TX