(409) 895-2588
When most people think of the damage caused by a fire, they think of flames curling under roofs or exploding out of windows. What they don't realize is that even after the flames are extinguished, the damage continues. Soot, smoke and chemicals from burning synthetics and firefighting chemicals can tarnish, etch, and work their way through the home. The damage can become permanent in only a few days.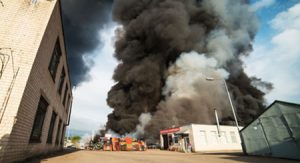 That's why it's vital to call the experts at ServiceMaster Recovery Services by TLC as soon as the fire is out. We provide soot and smoke restoration services to clients in Port Arthur, TX who have had the misfortune to experience a fire. We can salvage and restore many surfaces that have been damaged and remove the smell of smoke and other lingering odors.
Soot and smoke can spread to areas that were unaffected by the flames, tarnishing and etching vulnerable surfaces like porcelain, brass, aluminum and marble. In as little as a few days, the damage will become permanent without professional cleaning. The technicians at ServiceMaster Recovery Services by TLC use the best equipment and cleaning products in the industry to remove harmful substances left over from fires before they can ruin your interiors, possessions and irreplaceable heirlooms.
Smoke from a house fire is nothing like smoke from a candle or even a campfire. Thick clouds of it can spread all through the home, going deep into upholstery, carpets, and building materials. All the cans of air freshener or fabric refresher won't get rid of that smell. ServiceMaster Recovery Services by TLC uses the latest technology in the industry, like ozone, hydroxyl and Nano carbon technology to safely and effectively remove all traces of smoke. Once it's gone, we take preventative measures to ensure it won't return.
If you experience a fire in the Port Arthur, TX area, call the professionals at ServiceMaster Recovery Services by TLC as soon as the flames are out. We're available 24 hours a day, 7 days a week at (409) 895-2588 to provide comprehensive soot and smoke restoration services and we work with your insurance company to make the process as painless as possible.
---
Related Smoke and Soot Damage Restoration Services
Soot Removal and Smoke Restoration in Orange, TX
Smoke and Soot Damage Restoration in Westlake and Lake Charles, LA 
Smoke and Soot Damage Restoration in Bridge City and Beaumont, TX