(409) 895-2588
Personal belongings and trinkets are often silent victims of disasters like floods and fires. Most people focus on their property and furniture and don't clean their personal belongings quickly enough. This causes permanent damage to these items and you're forced to replace them. We at ServiceMaster Recovery Services by TLC can help you avoid this problem with our content cleaning and pack out services in Orange, TX.
What is Content Cleaning?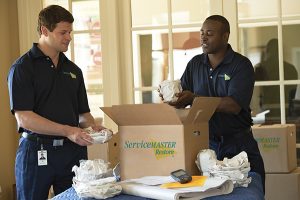 Your personal items are just as vulnerable to water damage, soot, mold, smoke, and other such aspects of disasters. They also need immediate attention and our content cleaning services provide just that. We will clean, restore, sanitize, and deodorize all of your personal items and make sure they're not permanently damaged. Here's what we can do for you:
We'll identify all vulnerable items and isolate them away from the main disaster area if possible.
Our team will use the latest equipment and cleaning techniques to ensure your home is ready for occupation and in good condition before we leave your property.
All items are cleaned on-site, which minimizes the likelihood of more damage.
We can also help you with your insurance claims as we have experience with the paperwork and procedure.
What is Our Pack Out Service?
Sometimes, we just can't perform on-site clean-ups and restorations because your home isn't in the position to support such tasks. If your property is declared unsafe and is too damaged, we'll remove and pack any personal items we can salvage and transport it to our facility as a part of our content pack-out services. This allows us to conduct all repairs and clean-up in a safe and comfortable location. Here's what you can expect from this service:
We'll create a detailed inventory of your personal items and take notes on the extent of the damage. This will help us keep track of all the products and ensure they don't sustain any damage during the pack-out and cleaning process.
Our team will pick the items from your location and transport them to our warehouse. There these items will be cleaned and restored using the latest techniques and machines. We will make sure these items are as good as new before we send them to your location.
If you have experienced a disaster in your home in Orange, TX that has resulted in considerable damage to your personal items, ServiceMaster Recovery Services by TLC can help with our content cleaning and pack-out services.  You can call us at (409) 895-2588 to learn more.
---
Related Content Cleaning and Pack Out Services
Content Cleaning and Pack-Out Services in Westlake and Lake Charles, LA 
Content Cleaning and Pack-Out Services in Bridge City and Beaumont, TX 
Content Cleaning and Pack-Out Services in Port Arthur, TX