Traumatic events like serious accidents or violent crimes are shocking when they happen on your property, and the scene is also very dangerous.  These scenes typically contain biohazard materials like blood and bodily fluids that may contain harmful toxins like bacteria and viruses.  You must call 911 immediately to get emergency responders to the scene, but these professionals will not clean and restore your property.  You need to contact a licensed restoration professional as well that can safely clean and restore trauma scenes containing biohazard materials.

At RestorationMaster, we provide biohazard and trauma scene cleaning services for homes and businesses in Downers Grove, IL.  Our professionals have each passed a background check and received certification to clean up biohazard materials and disinfect the scene.  We will ensure that your property is quickly restored to its previous condition and we always take a respectful approach in cases involving a serious injury or death.
Trauma Scene Cleaning
When you call RestorationMaster for trauma scene cleaning, we will arrive quickly on the scene to begin the cleanup.  We always arrive in unmarked vehicles to protect your privacy and we have the cleaning equipment and products needed to completely clean and restore the scene.  Our technicians can safely remove biohazard materials from the scene and ensure that they are disposed of safely through the proper channels.
We will also thoroughly disinfect the affected area to return it to its previous condition.  If the traumatic event was the result of a violent crime, we can work with the crime scene investigators to avoid contaminating the scene.
Some trauma scenes may only require cleaning and biohazard removal while others may require more in-depth restoration work. Our technicians can provide the following to restore the affected areas:
Repair or replacement of flooring, drywall, and other structural elements
Restoration of cabinets and furnishings
Repainting of damaged walls
Replacement of broken windows
Inspection of plumbing, electrical, and HVAC systems that may be affected
Biohazard Cleanup
The cleanup and disposal of biohazard materials must be done within the regulations of various governing bodies such as the CDC, EPA and OSHA.  Our technicians at RestorationMaster have bloodborne pathogen certification which they earned by completing extensive training on the proper protocols.  You can trust our technicians to complete the restoration safely while following all local, state, and federal regulations.
The biohazard materials that we remove from the scene are transported properly to a medical waste facility that is licensed to legally dispose of them.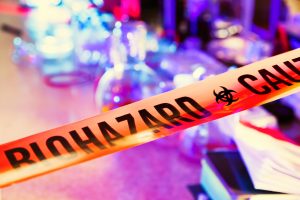 Our trauma scene cleaning services can include the following:
Clean up of violent crime scenes involving biohazard materials and chemicals used by law enforcement such as finger print dust and tear gas
Restoration of death scenes from a suicide, homicide, or accidental death
Hoarding cleanup for heavily affected homes
Cleanup of drug/ meth labs
Cleanup of blood and airborne pathogens
Cleaning of affected vehicles and equipment
Cleanup of prison cells
Decontamination to prevent the spread of infection and disease
Cleanup of tissues and bodily fluids
When a traumatic event occurs, dealing with insurance is likely one of the last things on your mind.  Our professionals can help you decide if it is worth your time to involve your insurance provider.  If you do file a claim, we will bill your insurance company with direct billing to pay for the claim.
Contact Us
If a traumatic event occurs on your property in Downers Grove, IL, immediately call the proper authorities as well as RestorationMaster to clean and disinfect the area with our biohazard and trauma scene cleaning services.  Our technicians will always work efficiently and treat our clients with compassion and respect in these situations.  You can reach us at (708) 571-2550 for emergency biohazard and trauma scene cleaning services 24 hours a day.
---
Related Services
Biohazard Cleanup Oak Park, IL
Biohazard Cleaning Oak Brook, IL
Biohazard and Trauma Cleanup Elmhurst, IL
Biohazard and Trauma Cleaning Berwyn, IL
Biohazard Cleanup Services Oak Lawn, IL
Biohazard and Trauma Cleaning Services Orland Park, IL
Biohazard Cleanup Contractors Hickory Hills, IL
Biohazard and Trauma Cleanup Services Lombard, IL
Biohazard Cleaning Contractors Tinley Park, IL
Biohazard and Trauma Scene Cleaning Cicero, IL