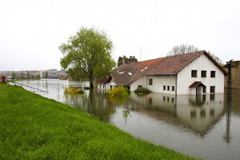 After a flood, there are several important steps to take before you even begin flood restoration.  First, if possible, turn off the main electrical power at the circuit breaker.  Next, contact your insurance company to determine what flood cleanup services are covered.
Flood repair is more complicated that other water damage, since it may be more extensive and the water often includes raw sewage.   Our flood damage cleanup experts have the tools and training to properly remove water and sewage, which may contain fecal matter and bacteria that can affect your health.
We start flood restoration quickly to minimize damage, using a full range of water extraction, cleaning, deodorizing, dehumidification and mold remediation for complete flood repair.   Our flood damage cleanup process includes using water detection probes and sensors to determine hidden problems that could lead to mold growth, rusted pipes or other issues.
Our flood restoration is thorough and complete, giving you peace of mind when you return to your property.
Request a quote for flood damage cleanup using the form at the right.