(847) 983-7400
When excess water is noticed in your home or office space, it is critical to treat the situation as an emergency. This is because of the extensive damage that excess water and moisture can cause to the structural components of your property, as well as any electronics, valuable belongings, and equipment in its path. At ServiceMaster DAK, we provide industry-leading water damage restoration services to property owners in Evanston, IL. No matter the extent of the damage, our IICRC certified technicians will dry, restore, and sanitize your property in an efficient and cost-effective manner.
Causes and Consequences of Excess Water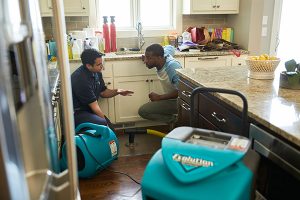 There are a variety of ways in which excess water and moisture can appear on your property. In Evanston, IL, some of the main causes include major leaks, burst pipes, and sewage backups. Regardless of how the water appears, however, the results are often the same. Below is a list of problems that can occur due to the presence of excess water and moisture:
Structural damage to your building because of the porous nature of many building materials
Discoloration, swelling, and corrosion of various materials throughout your property
Permanently damaged belongings, electronics, documents, equipment, etc.
Mold and bacterial growth that can result in severe health complications
The longer you wait to address the problem, the worse off your property will be. To limit preventable damage, we offer 24/7 emergency response capabilities to respond to these types of situations.
Restoring Your Property
As we stated above, all of our ServiceMaster DAK technicians are highly trained and IICRC certified. This simply means that no matter the extent of the damage, you will be receiving exceptional disaster restoration and cleaning services. For a better understanding of what to expect in this instance, please see below:
Rapid Response: We fully understand that disasters do not wait for a time that is convenient for you to occur. This is why we offer 24-hour availability. This way, we can limit the extent of the damage. When we arrive, we will quickly assess the situation, determine the cause of the excess water, and evaluate the levels of damage. With this information, we will create an appropriate restoration plan.
Implementation of Our Plan: By utilizing professional-grade water extraction and drying equipment, we will remove all excess moisture from your property. This may require us to remove or relocate certain furnishings and building elements, but they will be reinstalled later.
Restoration and Sanitization: Once everything is dry, we will repair affected areas and belongings as necessary, and fully sanitize your property with our advanced cleaning solutions.
Final Inspection: Because of the ease with which water and moisture can spread throughout your property, we will perform a thorough final inspection to ensure that all areas have been accounted for.
Severe water damage can greatly affect your living or working conditions. This is why we do everything possible to return your property back to normal as quickly as we can through our time-tested water damage restoration services. Our representatives can be reached 24 hours a day at (847) 983-7400. At ServiceMaster DAK, we work with homeowners and business owners in the Evanston, IL, area.
---
Recent Reviews
January 7, 2020
Very thorough clean up! The men were very professional and competent! They arrived on time for 5 days and were very pleasant and respectful of my home always wearing "booties" when entering. The room was left immaculate and debris removed in plastic bags day 1. The fans were checked daily until the room was dry. Very good service! Recommending Brian Brown and Gabriel who did a great job!
---