(847) 983-7400
Hoarding situations are as complex as they are dangerous. This may sound like an exaggeration, but even the friends and family members of hoarders are at a significant risk whenever they enter the home of an affected individual. This is because of a variety of dangers caused by excessively stacked and piled items. Another complication is the complex mental disorder known as compulsive hoarding. It creates severe levels of anxiety in affected individuals, which leads them into the hazardous situations in which they find themselves. If you are, or somebody you know is, struggling with hoarding tendencies, it is to your benefit to contact our representatives here at ServiceMaster DAK. We offer unique hoarding cleaning services to property owners in Evanston, IL, that address the complexities of hoarding, and return your home to a safe condition.
The Dangers of Hoarding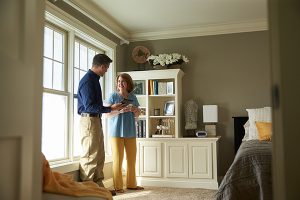 When we talk about hoarding, we mean situations where individuals affected by hoarding disorder struggle to throw away large amounts of unnecessary items. This results in a number of safety risks. Among these hazards include:
Blocked hallways and exits (which can be extremely dangerous in the event of an emergency)
Tipping or falling items
The increased likelihood of a fire
Mold and bacterial growth
The buildup of allergens
Unique Hoarding Cleaning Services
At ServiceMaster DAK, we work directly with affected individuals to gain their input throughout the cleaning process. Trust is a major factor when it comes to hoarding cleaning, which is why we will not proceed with our services until it is established. Specific things that we will address with hoarders include:
Which items to keep, throw away, recycle, or donate
What belongings friends and family members might want, and how they will be delivered
Paperwork from attorneys, trusts, and government agencies
Throughout the cleaning process, there will be a variety of family photos, valuable jewelry, sentimental objects, and similar items that we come across. We will help you salvage these belongings for safekeeping.
As we stated above, developing trust is a major component of our hoarding cleaning services. In fact, it is the first phase of our highly effective 3 phase approach. This first phase ends with us developing a sanitization plan. Phase 2 is the implementation of this plan, which can largely be described in the bulleted section above. We finish this phase by cleaning and restoring affected areas. Phase 3, however, is designed to help hoarders manage their habits going into the future. We will create an at-home cleaning plan for them to follow, and then follow up periodically to see how they are doing.
To begin the road to recovery, all it takes is a little bit of help. Our ServiceMaster DAK representatives and technicians are here to provide it through our hoarding cleaning services. If you would like to make use of these services, feel free to give us a call at (847) 983-7400. We have helped a number of individuals struggling with hoarding tendencies in Evanston, IL, and look forward to assisting you, as well.
---
Recent Reviews
January 7, 2020
Very thorough clean up! The men were very professional and competent! They arrived on time for 5 days and were very pleasant and respectful of my home always wearing "booties" when entering. The room was left immaculate and debris removed in plastic bags day 1. The fans were checked daily until the room was dry. Very good service! Recommending Brian Brown and Gabriel who did a great job!
February 8, 2019
M.J.C.
Arlington Heights, IL
---