Tile and grout look fantastic when they are freshly laid and sealed; however, because of their common use in areas exposed to rough conditions, they do not stay that way for long. Dirt and debris will eventually grind away at tile finish and grout lines. As a result, stains will begin to appear, and damaged grout lines can lead to loose tiles or worse. To prevent or repair this type of damage, we provide full tile and grout cleaning services here at ServiceMaster DAK. If you are a property owner in Evanston, IL, with dirty tile and grout, we encourage you to give us a call.
Tile and Grout Damage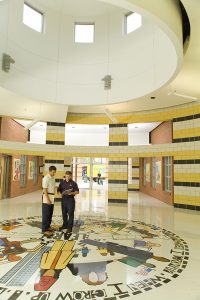 As stated above, the harsh elements that tile and grout are often exposed to can cause significant damage over time. Whether it is exposure to dirt and debris, or even excess moisture, your tile and grout can become severely damaged if it is not regularly cleaned and maintained. Tiles will eventually begin to discolor and stain, and grout lines will become cracked. While the former looks bad and can lead to permanent damage, the latter can result in loose tiles, and even the growth of mold and mildew as moisture gets trapped within openings.
Restoring Your Tile and Grout
No matter the location or condition of your tile and grout, our talented ServiceMaster DAK technicians will return it to its former glory. It is certainly recommended to clean your tile and grout regularly, but there is no need for you to spend hours scrubbing each individual grout line. When you make use of our services, we will utilize professional-grade sanitization solutions, as well as specialized tile and grout cleaning equipment, to remove even the most difficult dirt and stains.
While our cleaning methods are high-powered, you do not need to be concerned about them causing additional damage. Depending on the type of tile and grout we are cleaning, we will swap out tools and cleaners to make sure they are as rough or as gentle as needed. We regularly sanitize ceramic, porcelain, travertine, and limestone surfaces.
Once your tile and grout is clean, we will reseal it in order to prevent additional damage from occurring, and ultimately give it a longer life. Depending on your unique living conditions, we can come in to clean and seal your tile and grout however often you feel is required.
It may be tempting to put off professional tile and grout cleaning services, but this can lead to highly unnecessary damage. If you have any questions about our services, or would like to schedule an appointment, our ServiceMaster DAK representatives can be reached at (847) 983-7400. We are proud to work with both business owners and homeowners in the Evanston, IL, area.
---
Recent Reviews
January 7, 2020
Very thorough clean up! The men were very professional and competent! They arrived on time for 5 days and were very pleasant and respectful of my home always wearing "booties" when entering. The room was left immaculate and debris removed in plastic bags day 1. The fans were checked daily until the room was dry. Very good service! Recommending Brian Brown and Gabriel who did a great job!
---