Carpeting and upholstery are unique in the sense that they have a tremendous impact on the overall look of a room. This look, for lack of a better word, can give off a variety of impressions, for better or worse. To help your home or office space end up on the positive side of this situation, we offer comprehensive carpet and upholstery cleaning services to property owners in Evanston, IL.
Damaged Fabrics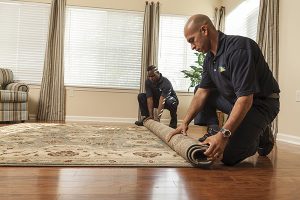 Generally speaking, it is recommended for homeowners to have their carpeting and upholstery professionally cleaned roughly once per year. This frequency obviously depends on a variety of factors (such as the presence of pets, amounts of foot traffic, the regularity of spills, etc.). For this reason, businesses require cleanings much more often.
Regardless of your individual situation, fabrics are typically damaged in a couple of key ways. The first is from stains through general spills. The other, however, is a real carpet killer (the main factors are consistent in upholstery, as well). Essentially, dirt, dust, and debris will get worked deep into the fibers of fabrics over time and build up beyond the reach of standard vacuums. Discoloration is a common result. Deterioration can ensue, as well, when this debris is rubbed against fabric fibers through frequent use. It is almost like fine sandpaper in your fabrics. At ServiceMaster DAK, we prevent this wear and tear through our specialized cleaning services.
Professional Carpet and Upholstery Cleaning Services
As we mentioned above, the buildup of dirt, dust, and other debris deep within the fibers of your fabrics is the most frequent cause of damage that we tend to see. To prevent it, we utilize an advanced cleaning method called hot water extraction.
Hot water extraction is a unique cleaning process that involves the use of specialized equipment and a mild, hot water sanitization solution. This cleaner is injected deep into your carpeting and upholstery to loosen the embedded debris that is known to wreak havoc on your fabrics. Once this debris has been dislodged, it will be sucked out along with the cleaning solution. The process takes a little bit of time but leaves your carpeting and upholstery in excellent condition.
In addition to hot water extraction, we treat all spots and stains, and can supply a Scotchgard protection application if requested. We also groom the fibers of your carpeting and upholstery to give them a clean, professional look once they dry.
If you are a business owner or homeowner in need of single-time or regularly scheduled carpet and upholstery cleaning services, please feel free to give us a call. Our ServiceMaster DAK representatives can be reached at (847) 983-7400 and are happy to schedule an appointment for homes and businesses in Evanston, IL.
---
Recent Reviews
January 7, 2020
Very thorough clean up! The men were very professional and competent! They arrived on time for 5 days and were very pleasant and respectful of my home always wearing "booties" when entering. The room was left immaculate and debris removed in plastic bags day 1. The fans were checked daily until the room was dry. Very good service! Recommending Brian Brown and Gabriel who did a great job!
February 8, 2019
M.J.C.
Arlington Heights, IL
---