Imagine 40 pounds of dust circulating throughout your home in a single year. That is exactly what the EPA estimates occurs in the average household. They also found that much of this dust settles within air ducts and HVAC systems as a whole. This means that every time your home heats or cools itself, a tremendous amount of dust may be spread. The harm is two-fold, though, as your HVAC system can be damaged by large amounts of dirt, dust, and debris. At ServiceMaster DAK, we provide comprehensive air duct cleaning services in Evanston, IL to eliminate these problems for you.
The Results of a Dirty HVAC System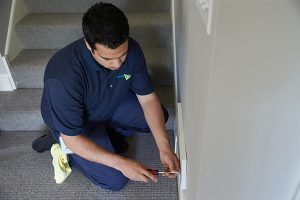 Now that you have a better understanding of the sheer amount of debris you and your family is up against, it is important to look at the potential consequences:
As dust and pollen build up in your vents, you and your loved ones will be exposed to higher levels of allergens
Your HVAC system will run less efficiently, which results in costlier electric bills
Depending on the severity of the problem, your home may be at a greater risk of suffering from a fire
Signs That Your Air Ducts Need to Be Cleaned
While it is generally recommended to get your air ducts cleaned at least once every 1-3 years (depending on your family size, number of pets, recent renovation projects, and similar factors), it might not always be easy to know when exactly a good time is. If you notice any of the following signs, it may be time:
Increased levels of dust in the home
Odors emanating from your vents and HVAC system
Black marks around your vents
The buildup of dust and debris in your vents
Worsening allergies while at home
Complete Air Duct Cleaning Services
ServiceMaster DAK is well known as a leading disaster restoration and cleaning firm in Evanston, IL, that specializes in air duct cleaning services. This is because of our attention to detail and state-of-the-art practices. When you work with us, you can expect the following:
The protection of your carpeting and furnishings while we work
A full inspection of your HVAC system (including air ducts)
Specialized cleaning with soft bristled brushes when required
Dust containment by working through one opening at a time
The removal of dust and debris by utilizing professional-grade equipment designed specifically for air duct cleaning
Sanitization and reinstallation of all registers and vents
Resealing and re-insulation of any necessary access holes
Final inspection to ensure a quality result
If you believe it is time for your air ducts and HVAC system to be cleaned, or if you would like our technicians to take a look, feel free to give us a call at (847) 983-7400. At ServiceMaster DAK, we are always happy to help those in the Evanston, IL, community.
---
Recent Reviews
January 7, 2020
Very thorough clean up! The men were very professional and competent! They arrived on time for 5 days and were very pleasant and respectful of my home always wearing "booties" when entering. The room was left immaculate and debris removed in plastic bags day 1. The fans were checked daily until the room was dry. Very good service! Recommending Brian Brown and Gabriel who did a great job!
February 8, 2019
M.J.C.
Arlington Heights, IL
---