The excitement felt when a new construction or renovation project is completed is difficult to describe. In many cases, it is the culmination of satisfaction and relief after a significant period of waiting. However, it can be lost in a hurry if construction crews do not adequately clean up after themselves. Unfortunately, this regularly occurs in both residential and commercial settings, which is why we offer post construction cleaning services at ServiceMaster DAK in Evanston, IL. Whether you are a homeowner or business owner, we want you to maintain a positive outlook when a project is complete. This is why we always work in an efficient, cost effective manner.
Debris Left Behind
While expectations and reality are often different, some results are simply unnecessary. A dirty post construction site is one of them. As a firm in the disaster restoration and cleaning industry, we understand that not all construction and renovation firms are also sanitization companies. They tend to clear large debris and hazards, but things like sawdust, screws, nails, and smaller objects are generally left behind. This can obviously lead to a variety of safety risks for any individuals that will be present in the freshly finished area.
Cleaning Construction Sites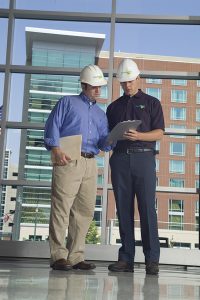 A major problem with the objects left behind by construction crews is that they are almost impossible to fully remove when using standard home cleaning equipment. In order to prevent any injuries, allergies, or similarly negative events from occurring down the road, we utilize professional-grade cleaning equipment and solutions. We also aim to leave your construction areas in the condition that you likely expected them – pristine.
Our ServiceMaster DAK technicians are all highly trained and IICRC certified. This means that they have vast experience in a variety of disaster restoration and cleaning scenarios. Cleaning and sanitizing your property following a restoration or construction project, in comparison, is relatively straightforward. They also understand where to look, and what to look for, which can pay dividends down the road.
Some of the specific cleaning services that we provide, among many others, include:
Mopping floors
Cleaning light fixtures
Dusting air diffusers
Spot cleaning walls and interior glass
Sanitizing bathrooms
Vacuuming and spot treating carpeting and upholstery
Machine scrubbing floors
Another way that we can help is by working directly with construction crews as they complete the project. This way, you will not need to wait for the project to be finished, and then wait even longer for sanitization services to come to an end. By working in conjunction with the construction team, we can remove any dust, grime, or loose debris that appears in real time. Additionally, we always make sure to avoid causing delays.
If you are a property owner in Evanston, IL, in need of post construction cleaning services, we encourage you to contact our ServiceMaster DAK representatives at (847) 983-7400. We are happy to address any questions or concerns that you may have and come up with a sanitization plan that works for you.
---
Recent Reviews
January 7, 2020
Very thorough clean up! The men were very professional and competent! They arrived on time for 5 days and were very pleasant and respectful of my home always wearing "booties" when entering. The room was left immaculate and debris removed in plastic bags day 1. The fans were checked daily until the room was dry. Very good service! Recommending Brian Brown and Gabriel who did a great job!
---