Fires can appear in a hurry, and then leave a wake of devastation in minutes. Homeowners may be forced to relocate for a period of time, and businesses may need to shut down operations until their building can be repaired. At ServiceMaster DAK, we address all aspects of fire damage in order to return your property back to its original condition. We provide these services to property owners of all kinds in the Evanston, IL, area.
Fire, Smoke, and Soot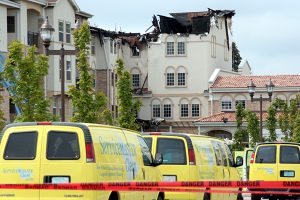 Fire is known to be a highly damaging element, but the resulting smoke and soot left behind can do just as much harm. This occurs because airborne smoke, soot, and other corrosive byproducts of fire can cause etching, discoloration, and permanent damage in areas of your building that seemed to be untouched by the fire.
In order to limit the extent of the damage, it is absolutely critical that you contact professional restoration experts right away. If you wait, then the chances of permanent damage taking hold only increase.
Emergency Fire Damage Restoration Services
At ServiceMaster DAK, we provide 24-hour emergency response capabilities to do everything we can to limit preventable damage. By arriving on-site within hours, we can utilize our specialized cleaning equipment and solutions to salvage as many of your belongings as possible. Some surfaces, such as brass, marble, aluminum, tile, chrome, and fabrics, require individualized attention with certain chemical cleaners in order to be restored. We will also stabilize your building in the case that structural damage was incurred.
In short, we will provide the following services through our fire damage restoration services:
Site-stabilization and board-ups
Pre-cleaning of delicate surfaces
Content cleaning and pack-out services
Wall, ceiling, and HVAC system cleaning
Structural repairs
Sanitization and deodorization
For a comprehensive look at what to expect when working with us, please see below:
Emergency Response: Thanks to our 24/7 availability, we will arrive on-site within hours of your call to stabilize your property and cover any openings in your building. We will quickly clean delicate surfaces, as well.
Source Removal: We begin by removing debris found at the source of the event in order to prevent soot and odors from spreading.
Water Damage Restoration: Fire departments generally need to douse large areas of your property in water to combat the fire. This can cause damage of its own, which we will promptly address.
Content Cleaning and Pack-Out Services: These services will give your personal belongings, business equipment, electronics, important documents, and similar items the greatest odds of making a full recovery. They are designed to restore any building contents back to their original condition, if possible.
Sanitization: By utilizing our professional-grade cleaning equipment, solutions, and methodologies, we will fully sanitize your property.
Deodorization: To prevent any odors from lingering, we will specifically address them with our odor removal services.
Structural Repairs: We can provide complete reconstruction services through our highly experienced technicians, industry connections, and project managers.
For emergency fire damage restoration services, contact our ServiceMaster DAK representatives at (847) 983-7400. We are available 24 hours a day to answer your call, and provide services to those in the Evanston, IL, area.
---
Recent Reviews
January 7, 2020
Very thorough clean up! The men were very professional and competent! They arrived on time for 5 days and were very pleasant and respectful of my home always wearing "booties" when entering. The room was left immaculate and debris removed in plastic bags day 1. The fans were checked daily until the room was dry. Very good service! Recommending Brian Brown and Gabriel who did a great job!
---