Just about every home has a tile and grout surface somewhere, typically in the kitchen or bathroom. Many homeowners put tile and grout surfaces in these areas because they resist moisture very well and the tiles come in so many different colors and styles to fit the design of any kitchen or bathroom. Tile and grout surfaces may be durable, but over time the finish fades, making the grout lines and tile surfaces vulnerable to moisture and dirt buildup. The dirt buildup can affect the appearance of the tile surfaces and moisture in the grout lines can result in mold or mildew growth. RestorationMaster provides tile and grout cleaning services in Charleston and North Charleston, SC to clean and restore tile and grout surfaces. Our state-of-the-art equipment can remove embedded dirt and debris and leave your tile looking new.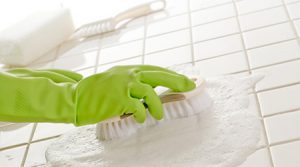 Tile and grout is used for walls and flooring in kitchens and bathrooms and these surfaces have a major effect on the look of the space. As the finish wears out, dirt, moisture, and other debris may stick to the surface of the tile and grout lines and cause the color to fade. Sweeping and mopping regularly helps, but it does not effectively remove all debris that has built up on the surface. At RestorationMaster, we use advanced, high-pressure cleaning equipment that removes dirt, mold, and other debris from the tiles and grout lines. Our cleaning equipment and products are safe for porcelain and ceramic tiles and can effectively restore the original look of your tiles.
Our tile and grout cleaning services consist of these steps:
Complete inspection of tile and grout surfaces to help determine the best cleaning method
Pre-treatment of spots and stains
Thorough cleaning with high pressure, truck mounted cleaning equipment
Corner and baseboard cleaning
Drying of the tile and grout surfaces
The maintenance of your tile and grout surfaces will help keep your bathroom and kitchen looking its best. If the tile and grout surfaces in your home in Charleston or North Charleston, SC are starting to look dirty or faded, call RestorationMaster for professional cleaning services. You can reach us any time at (888) 915-8868 to learn more or schedule an appointment.