The death or major injury of a loved one is never easy to handle, and if it happens due to violence or an accident, it can be even more difficult. Encountering this type of a scene is emotionally overwhelming, and also very dangerous. Biohazard materials such as blood and bodily fluids are common at the scene of a violent crime or accident and coming into contact with these substances can cause illness or infection. You must call the police immediately to respond to the scene in addition to a restoration professional that can safely restore the scene. RestorationMaster provides biohazard and trauma scene cleaning services to safely clean and restore scenes containing biohazard materials in Charleston and North Charleston, SC.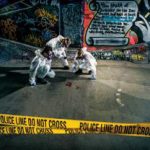 There are many materials that are considered biohazards that you may come across in various situations. What all biohazard materials have in common is that they each contain harmful toxins that can easily spread illness and infection if they are not cleaned up properly. The most common biohazard materials found at a trauma scene are blood, tissues, and bodily fluids that must be cleaned up correctly to avoid spreading disease. Our technicians are licensed and equipped to clean up biohazard materials and remove all traces including stains and odors. We use the most powerful and effective cleaners available and we follow the safety protocols of OSHA and state health regulations.
Our biohazard and trauma scene cleaning services are not just focused on the cleaning aspect. We understand that these situations are tragedies and we are sensitive to the emotions of those grieving a loss. Our technicians arrive in unmarked vehicles to protect your privacy and we treat those who are grieving with compassion and respect as we remove the physical evidence of the tragedy. If there is a crime scene investigation going on, we will cooperate with law enforcement to help the investigation along. Our goal is to restore the scene to a safe, livable state so you can begin the healing process.
Our biohazard and trauma scene cleaning services include:
Compassion and respect from our technicians
Removal of all biohazard materials and thorough cleaning and disinfection of the scene
Transport of biohazard materials to a licensed medical waste facility
Compliance with local, state, and federal health regulations
The scene of a violent crime or accident is an overwhelming sight but you must respond the right way for your own safety. Contact law enforcement and EMTs first, then call RestorationMaster for biohazard and trauma scene cleaning. We are available 24 hours a day at (888) 915-8868 to respond to emergencies in Charleston and North Charleston, SC.