888-915-8868
Dust is something that no home or building can escape. The average home has approximately 40 pounds of dust circulate through in a year and a lot of dust settles within the HVAC system as the heating or cooling turns on. Too much dust in the HVAC system can clog the internal components, restrict airflow to lower its efficiency, and contribute to poor indoor air quality. RestorationMaster provides professional air duct cleaning services for homes and commercial buildings in Charleston and North Charleston, SC. We can effectively remove the dust from your HVAC system to improve its efficiency for lower energy bills and cleaner breathing air.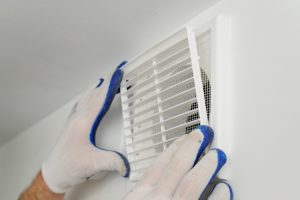 Each time the heating or air conditioning turns on in a home or building, it draws in air along with the dust and debris in the air. The dust builds up along the walls of the ducts and on the component parts as it passes through the system. This buildup increases the risk of a malfunctioning part or breakdown and causes a restriction in airflow that forces the system to use more energy, raising your heating and cooling bills. A dirty HVAC system can also be a health hazard as the dust and debris gets circulated back into the air when the system runs.
Our technicians can completely remove dust and other debris from the air ducts and component parts of your HVAC system with the direct access method. These services will improve the efficiency of the HVAC system and should be done about every 3 years.
Our air duct cleaning services cover the following:
Vents and registers
Heating and cooling coils
Air ducts
Drip pans
Grilles and diffusers
Heat exchangers
Fan motor and housing
Air handling unit housing
Our air duct cleaning services have been shown to lower your heating and cooling bills by improving the overall efficiency of the system. If your home or business in Charleston or North Charleston, SC could benefit from professional air duct cleaning services, contact RestorationMaster for an appointment. You can reach us anytime at (888) 915-8868 for more information.