888-915-8868
Severe natural disasters have a tendency to cause more than just a huge mess in your home. Flooding, fires, severe storms, and even extensive mold growth can cause intense structural damage that restoration services alone cannot fix. In these situations, it is best to call a professional that can provide restoration services to clean up the mess as well as construction services to rebuild your home. RestorationMaster provides reconstruction services along with disaster restoration to fully restore and repair homes and businesses in Charleston and North Charleston, SC that have sustained severe damage.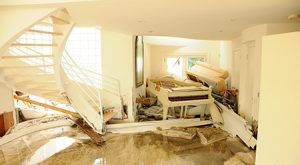 Experiencing a high amount of damage to your home or building from a disaster can be very overwhelming and our technicians help put you at ease by forming a thorough and effective reconstruction plan. We are committed to making this process as simple as possible by explaining our construction plan to you so there are no surprises and we are available to communicate with you throughout the process to keep you updated and address any questions or concerns. Our construction staff has the training and experience to handle everything from simple repairs to complete renovation for any size loss. We can effectively repair all types of buildings from single family homes to multi-tenant apartment buildings, retail stores, and other commercial or industrial buildings.
You can expect the following with our reconstruction services:
Complete scheduling, planning, and project management
Total evaluation of the damage
Controlled demolition
Estimating service
Detailed scope of repairs
Price agreement with insurance company
Consultation and design
Roof tarping
Full service remodeling
Building stabilization
Code compliance
If your home or building has been severely damaged in a disaster, it is important to call for construction services right away to get it stabilized before the damage becomes worse. Make sure you call RestorationMaster as soon as you can if you need construction services for your home or building in Charleston or North Charleston, SC. We will arrive on the scene quickly to stabilize the building and form a reconstruction plan after assessing the damage. You can call us 24 hours a day at (888) 915-8868 for emergency reconstruction services.