Mold is a particularly difficult issue to deal with because it can form anywhere it finds moisture and it can grow in hidden areas and cause plenty of unseen damage. Once mold growth appears, it uses cellulose in the affected surfaces as a food source and slowly devours these surfaces which can lead to serious structural damage. The presence of mold can also trigger a series of health effects including allergic reactions and infections in extreme cases. RestorationMaster provides mold removal services in Charleston and North Charleston, SC to test for and remove mold from homes and businesses. Our technicians are trained to effectively remove mold growth and we use the best testing system available to find hidden mold.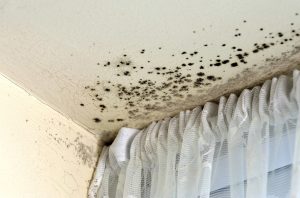 Mold growth will not form without moisture but once it does, it has a readily available food source as cellulose is found in several building materials including drywall and wood. The damage caused by mold growth can be extensive as it causes discoloration and eats away at the affected surfaces. Eventually this can permanently damage the surfaces and even compromise their structural integrity. The other major issue with mold is the risk of negative health effects from exposure to the spores. The main health issues caused by mold exposure include allergies such as skin irritation, itchy eyes and throat, nasal congestion, and coughing as well as more serious infections from long term exposure.
You must react immediately to any mold growth to help stop the spread of the damage and prevent negative health effects. The technicians of RestorationMaster have the right equipment and cleaning products to locate and remove all mold growth from your home or building and prevent it from spreading to new areas. We make sure to find all hidden mold growth using the InstaScope testing system which is the most accurate testing equipment in the industry. InstaScope testing consists of the following steps:
Baseline Measurement: We measure the airborne concentration of mold outside the home or building for a baseline measurement.
Comparative Testing: We test each room and compare the results to the baseline measurement to determine which areas have high mold levels.
Confirmation: We test the home or building once more after the mold removal process to be sure that there is no mold growth left behind.
It is important to be on the lookout for mold because mold growth can cause serious structural damage as well as health issues before you realize there is a problem. If there is significant mold growth in your home or business in Charleston or North Charleston, SC, contact RestorationMaster right away for our mold removal services. We can not only effectively remove mold, but test for it accurately to make sure your home or business is mold free. Give us a call at (888) 915-8868 for professional mold removal.