Standing water is one of the last things that you want to find in your home or business because it can cause serious damage very quickly. Indoor flooding can be caused by natural floods and heavy rain, major leaks, and sewage backups and the standing water can deeply penetrate the building materials in your home where it can cause significant structural damage and mold growth. You must react to indoor flooding right away to prevent serious damage. RestorationMaster provides flood damage restoration services in Charleston and North Charleston, SC to dry and restore flooded homes and businesses. Our technicians can effectively extract standing flood water and restore water damage caused by the flooding.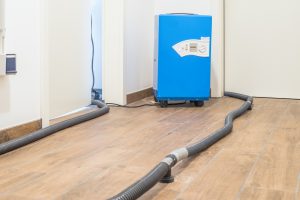 Indoor flooding is dangerous because the excessive amount of water gets absorbed and spreads through porous building materials like drywall, flooring, wood, and insulation. This can cause the materials to buckle, warp, and weaken which can lead to major structural damage. Flooding can also create unsanitary conditions in your home because the water may contain harmful microorganisms or sewage, and the presence of so much moisture increases the risk of mold growth. RestorationMaster uses state-of-the-art water extraction equipment to completely remove flood water and excess moisture from homes and buildings. We follow up the extraction process with in-depth drying to ensure that all moisture is removed from affected furnishings and materials which helps to prevent mold.
Our flood damage restoration services consist of the following steps:
Emergency Response: We can take your call 24 hours a day and we respond quickly to contain and inspect the damage.
Water Removal and Drying: Standing water is removed with advanced water extraction equipment and we use dehumidifiers to dry the affected area.
Reinstallation and Cleaning: We will restore, clean, and sanitize the affected areas and put furniture and other large objects back in their original places.
Flooding from Sewage Backups
Sewage backups are perhaps the most unpleasant way to experience an indoor flood because they can cause widespread damage and create a dangerous situation. Sewage backups can happen anytime there is a clog in the main sewer line and they bring sewage water into your home that contains waste and bacteria that can spread disease and infection. You must avoid all contact with flood water that may contain sewage and call the professionals of RestorationMaster immediately. Our technicians can safely remove contaminated water from a sewage backup as well as clean and disinfect the area to eliminate the risk of negative health effects.
Flooding in your home or building is a serious issue because it has the potential to cause devastating structural damage and there is a chance that the flood water contains contaminants that can affect your health. If your home or business in Charleston or North Charleston, SC is affected by flooding, contact RestorationMaster for our flood damage restoration services. We are standing by 24 hours a day at (888) 915-8868 to respond to your flooding emergency.