In homes and offices, the carpeting and furniture are typically the first things someone notices when they enter the space.  This means that if the carpet and furniture upholstery are dirty, it can make the entire space seem dirty and leave a bad impression.  Dirt buildup and stains in the carpeting and upholstery fabric not only take away from the look of the room or office, but also contribute to an unhealthy indoor environment.
Carpet and furniture experience daily use in most settings, especially commercial settings, and the repeated use causes dirt and debris buildup.  Foot traffic pushes dirt and debris deep into the carpeting and when the dirt builds up, it can cause the carpet to fade and even deteriorate.  The dirt and debris that builds up in upholstery fabric can become abrasive with direct contact, causing the fabric to become worn out with use.  It is best to have the carpeting and upholstery professionally cleaned to remove the built-up debris and extend the life of the material.
ServiceMaster Professional Services (SVMPS) provides carpet and upholstery cleaning services in Cambridge, MN for homes and businesses.  Our technicians can remove stains from carpeting and upholstery fabric using powerful stain removers and extract embedded dirt with advanced cleaning equipment and solutions.  These services will restore the original appearance of the carpet and upholstery and help these materials last longer.
Professional Carpet Cleaning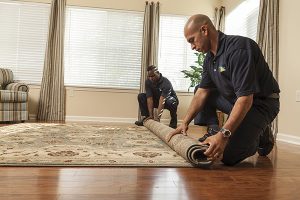 Carpeting in homes, offices, and other commercial spaces experiences daily foot traffic that causes a gradual buildup of dirt and debris in the carpet fibers.  As the debris accumulates, it affects the color of the carpet and it can eventually cause damage to the fibers.  You can slow the buildup of debris with regular vacuuming, but it takes professional services to remove the deepest embedded debris.
Our technicians at SVMPS can effectively deep clean and restore all types of carpeting using effective cleaning products and the hot water extraction method.  With this cleaning method, a mild hot water solution is applied directly to the carpet and immediately extracted using advanced equipment, removing dirt and debris with it.  We also use stain removers to treat any stains in the carpeting.  You should have the carpet professionally cleaned in your home once every 6 to 12 months.  Cleanings are often needed much more frequently in commercial settings.
You can expect the following from our carpet cleaning services:
Initial inspection of the carpet
Pre-treatment of stains and heavily soiled areas
Hot water extraction cleaning
Post-treatment for lingering stains
Final inspection to ensure you are satisfied with the results
Professional Upholstery Cleaning
The upholstery of your furniture can become dirty, stained, and worn out in much the same way as your carpeting.  Repeated use will lead to debris buildup in the fabric and some soil can be abrasive against the surface when the furniture is in use.  If the dirt and debris is not removed, the upholstery will quickly fade and wear out prematurely.  Professional cleanings can restore the look of the upholstery and help it last longer by reducing wear and tear.
Our technicians use the hot water extraction method and advanced chemical cleaners to remove dirt and stains from furniture upholstery.  We will clean and restore your upholstery with the following steps:
Vacuuming to remove loose dirt and debris
Stain treatment
Hot water extraction cleaning
Washing and polishing of the frames
Our professional cleaning services can effectively remove dirt and stains from your carpeting and upholstery, revitalizing its appearance and extending its life.  We will always use safe and effective green cleaning products and ensure that your carpet and upholstery is thoroughly cleaned.  You can call us at (888) 583-5345 to learn more about our cleaning services in Cambridge, MN or to schedule an appointment.
---
Recent Reviews
---