Upcoming Events
We are once again raising money for Pediatric Cancer Research benefiting the City of Hope. Over the past [3] years, we, along with our sponsors, have helped by raising and donating over $37,434 to the cause. Statistics show that one child in every 100,000 people develop some form of cancer, or another with Leukemia, the number one culprit [over 94%].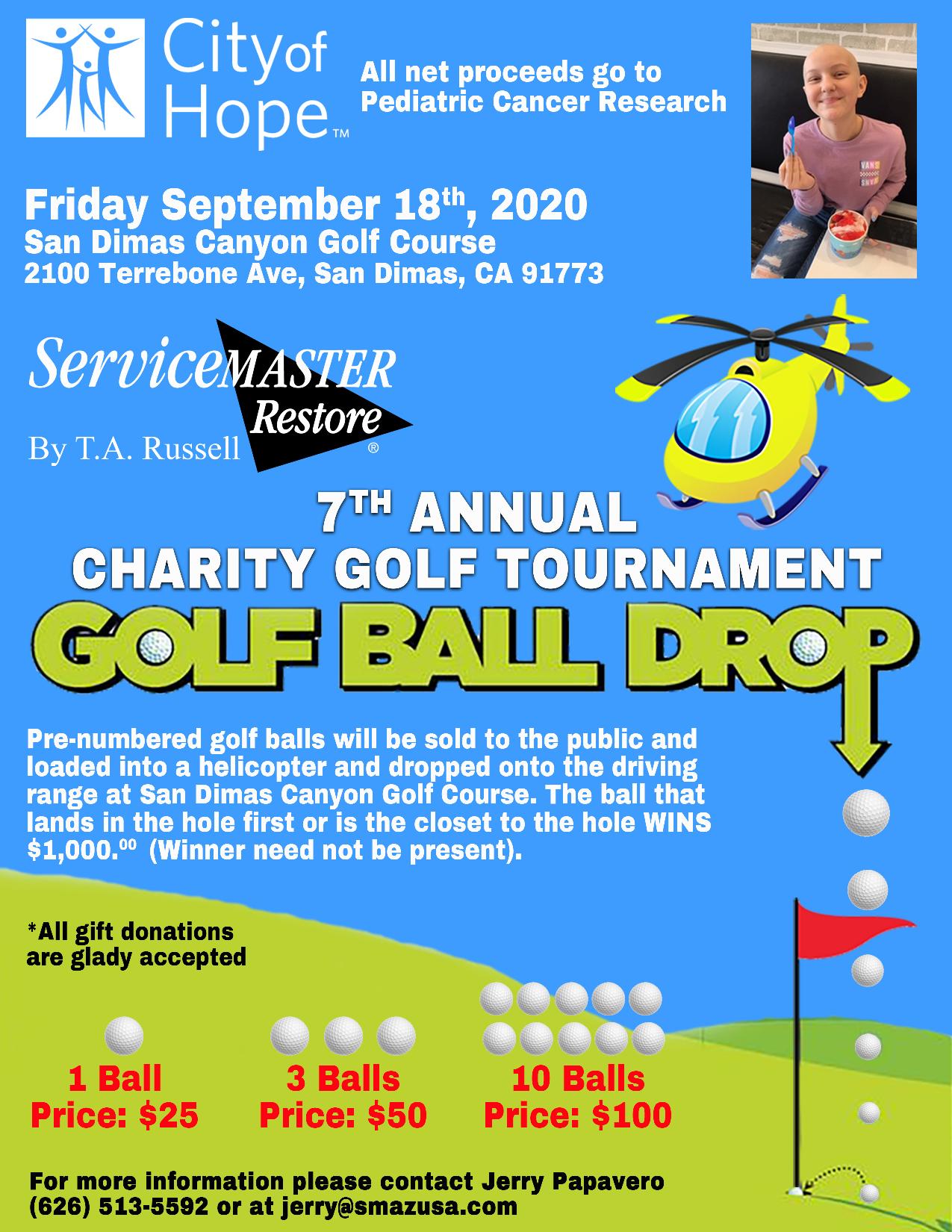 This past year my granddaughter was diagnosed with an Ovarian Glandulous Malignant Tumor at age 12, up in Billings, Montana. I am extremely grateful for our contacts over at the City of Hope. They were able to hook my son up with the right doctor, and after the consultation, they brought Aisley down to here to be treated at the City of Hope. We as a family are very fortunate that they have the people and the research to help when the unexpected happens. My granddaughter (pictured in the Helicopter Ball Drop) is starting her 4th round of Chemo this week at the City of Hope. We don't wish this on anyone, and with the help of your donations, perhaps we can eliminate cancer out of children's lives in the future.
In 2019 we had over 144 golfers. We really cannot do this without people like you, McKaiela, and Ontario Regin [LA Kings Affiliate].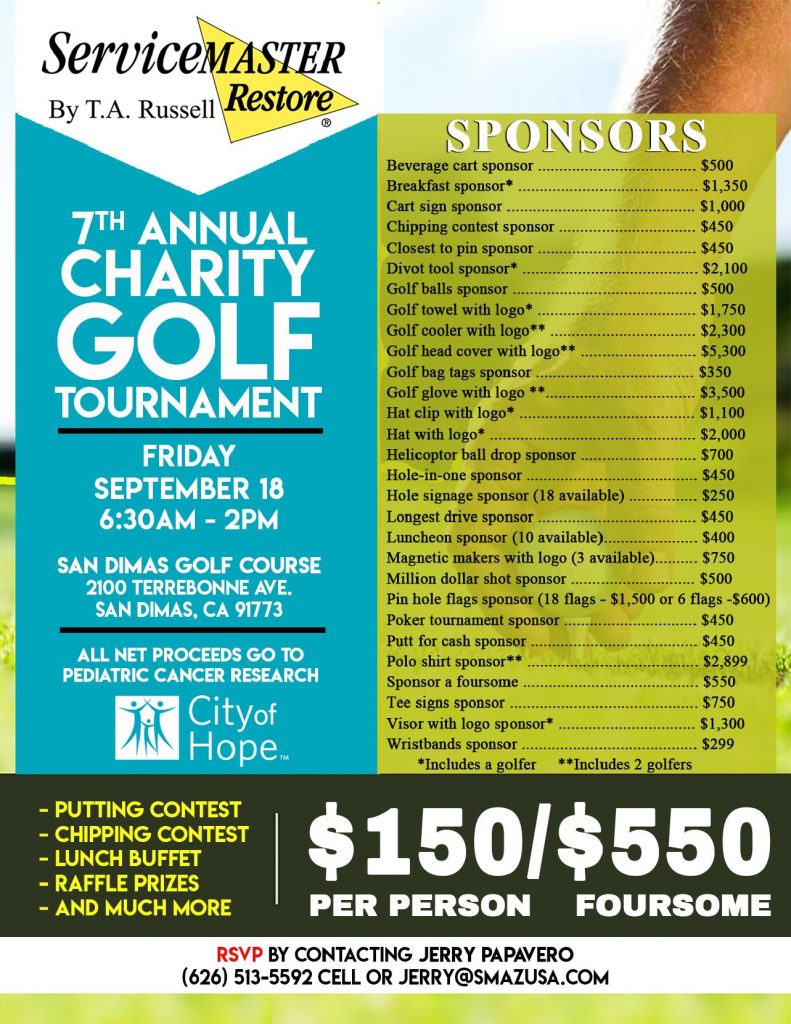 We sincerely hope that we can count on you to be a part of this worthwhile event. Our tournament will be held on Friday, September 18, 2020 at San Dimas Canyon Golf Course (2100 Terrebonne Ave, San Dimas, CA 91773).
For our Gold Sponsor, we are including 1 foursome, sponsor banner, a choice of cart or tee signage, golf shirts, luncheon signage, verbal recognition at the luncheon, along with website and social media recognition and a special gift.
We also have some interesting ways to put sponsors' names in front of these [100+] business owners via Million Dollar Shoot Out, Flag Pins, Hole Sponsorship Signage, Wrist Bands, Lunch Sponsor[s], and Golf Bag tags (just to name a few).
Any interested sponsors or golfers should contact Jerry Papavero at: Jerry.papavero@smazusa.com, (cell) 626-513-5592 , or (office) 626-963-4048 ext. 103.
Previous Events
ServiceMaster by T.A. Russell's 6th Annual Golf Tournament to Benefit City of Hope Pediatric Cancer Research
ServiceMaster by T.A. Russell hosted their 6th Annual City of Hope Charity Golf Tournament to raise money for pediatric cancer research. This event has raised more than $26,000 in the last two years to help the City of Hope in their fight against pediatric cancer.
Golfers played at San Dimas Canyon Golf Course (2100 Terrebonne Ave, San Dimas, CA 91773).
"It was a Great Day," says Russell.  "We brought in just over $11,000 for Pediatric Cancer Research benefiting the City of Hope in Duarte, CA, it was great weather, and everybody had a great time!"
Here are a few pictures from our Charitable Golf Tournament this year:
In addition to the golf tournament, this year's event included:
A helicopter ball drop
Several hole in one contests
Closest to the pin contests
Long drive contests
Putting contest
Chipping contest
$1 million shot
Post-event shootouts
Raffles and luncheon
Special guests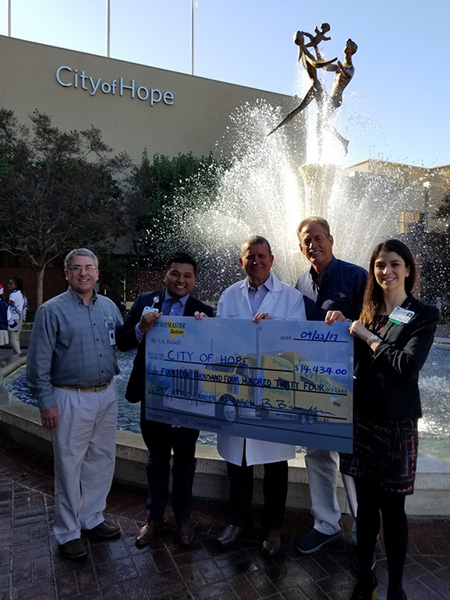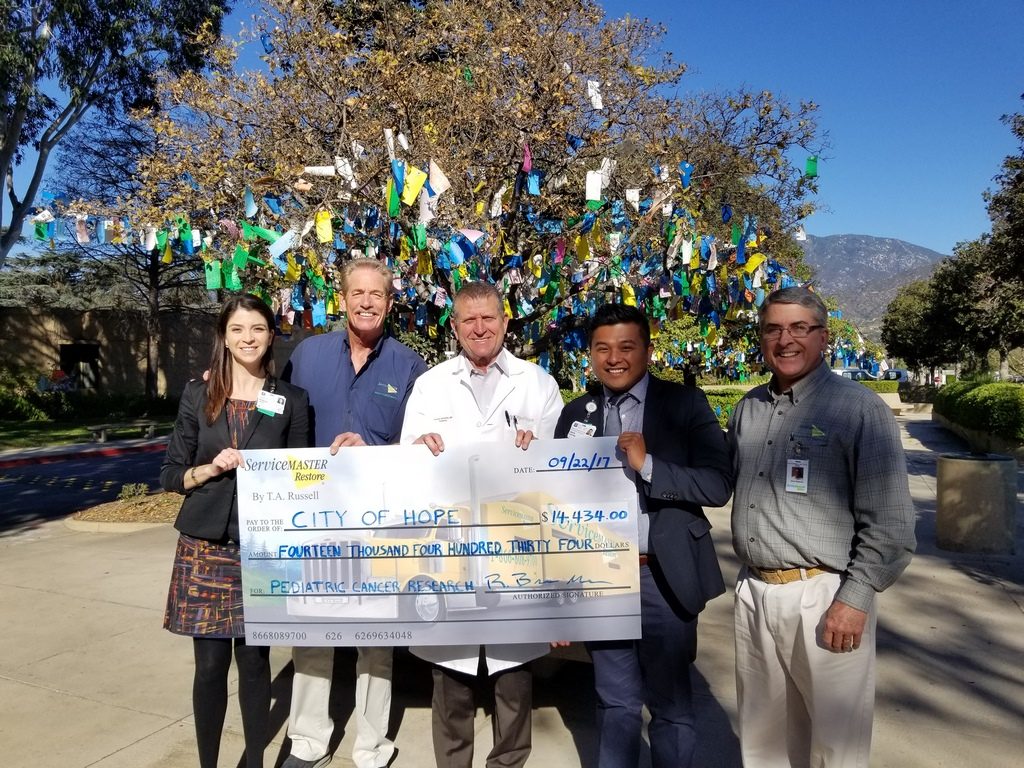 ServiceMaster by T.A. Russell made a donation to the City of Hope National Medical Center Cardiology in Duarte, CA to help support pediatrics research.  Our owner Bruce Mason and business development representative Jerry Papavero visited City of Hope to present them with a check for $14,434.  The check was accepted by Pediatric Hematologist-Oncologist Dr. Joseph Rosenthal, Senior Director of Philanthropy Rosalie A. Licht, and Senior Director of Development and 3rd Party Events Jason Lustina.
ServiceMaster by T.A. Russell is proud to help a trusted healthcare provider in our local community in this important research.
---
Recent Reviews
Review by L.J.
Rating

"Your movers were great!!! I glad to see women in those positions."
---
Review by P.D.
Rating

"ServiceMaster was very professional and thorough with my loss and lived up to their name, ServiceMaster CLEAN."
---
Review by P.M.M.
Rating

"Came immediately and tailored the equipment to our needs."
---
See All Reviews