ServiceMaster by T. A. Russell
(626) 386-8834
Se habla Español
"We all are facing difficult times with the Covid-19 pandemic. However, ServiceMaster by T.A. Russell provides professional Coronavirus cleaning and disinfection services to homes and businesses in the Southern California area. If you want the job done right, call us today!
Always Ready and Willing when the Need Arises!"
ServiceMaster by T.A. Russell has been providing disaster restoration and cleaning services for Pasadena, CA and the surrounding areas of L.A. County since 1978. Since our beginning, we have developed into one of the top disaster restoration providers in the U.S. and we have recently been awarded the Marion E. Wade National Award which commemorates outstanding disaster restoration services within the ServiceMaster family. Our staff is dedicated to providing exceptional customer service through every step of the cleaning and disaster restoration process.
Disasters related to water, fire, smoke, or mold usually happen without warning and the first step you take can greatly affect the scope of the restoration process. Calling a trained professional will help limit the spread of the damage which will save you time and money in the restoration process. The technicians of ServiceMaster by T.A. Russell can do the job right to restore your home and your peace of mind.
"That by the time we're done, you're not even going to know it happened, it's kind of a remodeling job that's been forced on customers, rather than being planned."
–Bruce Mason Owner
DON'T WAIT. For emergency services call (626) 386-8834.
If you are not sure if your problem is serious and needs professional help please don't hesitate to contact our office and ask about our FREE MASTER CHECK Program.
Water damage can be caused by a variety of issues such as leaking pipes and fixtures, flooding, sewage backups, and heavy rain which makes it a common problem in homes and buildings. If water damage is not addressed once it starts, the problem can spread and cause more costly damages. ServiceMaster by T.A. Russell provides water damage restoration services for homes and businesses in Pasadena, CA. Our technicians employ a three phase approach which consists of quick response, removal of excess water and drying, and reinstallation and cleaning of the structural elements and furnishings of the home. We respond within 2 to 4 hours of your call for emergency situations.
Fires are dangerous not only because of the potential harm they can do to you and your home, but also because the damage continues to get worse after the fire is put out. Soot will continue to settle, causing permanent etchings, and the corrosive byproducts and chemical emissions can cause further damage that will eventually become permanent. ServiceMaster by T.A. Russell provides fire and smoke damage restoration services in Pasadena, CA to limit the spread of the damage and start restoring your home or building immediately. We can effectively salvage the structural elements, furnishings, and personal belongings that have been damaged as well as remove any lingering smoke odor.
Mold is a problem that can pop up just about anywhere because all it needs to grow is a moisture source and a food source such as wood or drywall surfaces. Once mold starts to grow, it can spread very easily and it often leads to property damage, musty odors, and potential health issues. It is important to react as soon as you notice mold growth and ServiceMaster by T.A. Russell provides mold removal services for homes and businesses in Pasadena, CA. We can provide full inspections, lab analysis, and mold removal by working with nationally recognized testing facilities.
Certain disasters cause so much widespread damage within a home that often personal items may be affected. It is important to clean and restore damaged personal items and keepsakes as soon as possible before the damage becomes permanent. ServiceMaster by T.A. Russell provides content cleaning and pack-out services in Pasadena, CA to restore damaged personal belongings. We will work to restore as much as we can onsite and if your home is unsafe or your items would be better restored off-site, we can pack-out your belongings and take them to our secured facility for cleaning.
Sometimes the repair and restoration after a disaster is not enough to remove lingering odors that may be left from water, smoke, or mold. These odors may require a specialized service to eliminate them from the air spaces and structural elements and ServiceMaster by T.A. Russell provides deodorization services for homes and businesses in Pasadena, CA. We have the training and specialized equipment to remove odors caused by water, fire, smoke, and mold from the furnishings and air spaces of a home using proven methods such as hydroxyl technology and thermal fogging.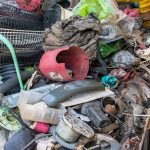 Hoarding disorder is a problem that affects many individuals and families and the symptoms can create living conditions that are dangerous for those inside the home. It is important to help hoarders clean out their homes when the living conditions become unsafe and ServiceMaster by T.A. Russell provides hoarding cleaning services in Pasadena, CA. Our technicians can help clean out and sanitize the home with our three step cleaning process which includes decontamination, odor removal, and proper disposal. We also have the training to properly clean and dispose of biohazard materials such as bacteria, bodily fluids, and dead animals.
Serious disasters such as severe storms, flooding, and fires can cause extensive damage to a home to the point that it needs to be rebuilt. In these cases, it is important to begin the rebuilding process right away and ServiceMaster by T.A. Russell provides construction services to rebuild homes and buildings in Pasadena, CA. We have the training to help rebuild private residences, multi-tenant buildings, high-rises, and retail stores among others and we will manage every aspect of the construction process.
A major disaster such as a flood, fire, or severe storm can happen at any time in an office or commercial space and the damage it causes can be devastating for a business. A disaster costs a company money in repairs and by suspending normal business operations, but reacting quickly to a disaster can help limit the amount of damage and the time spent on the restoration. ServiceMaster by T.A. Russell provides commercial disaster restoration services in Pasadena, CA to repair and restore local businesses that have been damaged in a disaster. We use the most advanced products and equipment to restore losses of any size in offices and commercial buildings.
Few things are more shocking than encountering the scene of a serious accident or violent crime on your property.  The scene is not only traumatizing to discover, it is also very dangerous.  Biohazard materials such as blood and bodily fluids present on the scene may contain harmful toxins that can spread infection or disease.  A licensed professional must remove these materials and clean up the scene.  ServiceMaster by T.A. Russell provides biohazard and trauma scene cleaning services in Pasadena, CA to safely clean and disinfect scenes containing biohazard materials.  We will ensure all dangerous materials are removed and that the affected areas are thoroughly disinfected to prevent the spread of infection or disease.
---
Related Restoration and Cleaning Services
Restoration & Cleaning Services In Azusa, CA By ServiceMaster By T.A. Russell
Disaster Restoration And Cleaning Services My ServiceMaster For Glendale, CA
---
Recent Reviews
Review by L.J.
Rating

"Your movers were great!!! I glad to see women in those positions."
---
Review by P.D.
Rating

"ServiceMaster was very professional and thorough with my loss and lived up to their name, ServiceMaster CLEAN."
---
Review by P.M.M.
Rating

"Came immediately and tailored the equipment to our needs."
---
See All Reviews