ServiceMaster by T.A. Russell
(626) 386-8834
Se habla Español
Hoarding is a mental disorder that affects many people in the U.S. and the symptoms usually develop gradually. It can begin as modest collecting and eventually turn into a complete inability to throw anything away, leading to dangerous and unsanitary living conditions as the collected hoard grows and blocks off parts of the home. ServiceMaster by T.A. Russell provides hoarding cleanup services in Pasadena, CA to help restore the homes of individuals dealing with hoarding issues to safer living conditions. We can remove the hoarded items from the home as well as clean and sanitize the affected areas.
Individuals that struggle with hoarding generally collect anything from empty food containers, paper products, and newspapers to trash and even animals. As this hoard of items grows, it may harbor harmful materials such as bacteria or mold and block off access to certain areas of the home. Typically it takes a close friend or family member of the individual to initiate the hoarding cleanup process and in these cases, ServiceMaster by T.A. Russell is ready to help.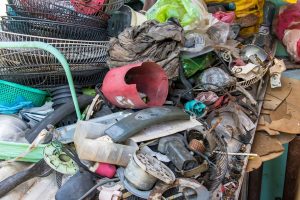 Our technicians understand that approaching a hoarding situation with respect and compassion for the individual is important for completing the job and we have the proper equipment to fully clean and sanitize the home. As the hoard is removed, we can help make decisions about what should be salvaged and what needs to be removed. We can also handle the removal of biohazard materials including bacteria, mold, bodily fluids, and dead animals if we happen to encounter them.
Hoarding Cleanup Process
Every technician that works on hoarding cleanup projects is licensed and certified to perform the job according to the rules and regulations of the EPA, OSHA, and the Department of Transportation. Our hoarding cleanup process consists of the following:
Decontamination: Once the hoard is removed, the areas are decontaminated to kill harmful mold or bacteria.
Deodorization: We can remove odors left from the hoard with our powerful deodorizers.
Disposal: All discarded items, including biohazard materials, will be transported to the right facilities for safe disposal.
Hoarding disorder can have serious implications and the symptoms may get worse over time which makes it important to reach out to a family member or friend that struggles with these issues. The hoarding cleaning services provided by ServiceMaster by T.A. Russell can help you clean out and sanitize their home to greatly improve their living environment. We can be reached 24 hours a day at (626) 386-8834 for more information about hoarding cleaning or for a free estimate.
---
Related Hoarding Cleaning Services
Hoarding Cleaning In Azusa, CA
Hoarding Cleaning Services For Glendale, CA
---
Recent Reviews
Review by L.J.
Rating

"Your movers were great!!! I glad to see women in those positions."
---
Review by P.D.
Rating

"ServiceMaster was very professional and thorough with my loss and lived up to their name, ServiceMaster CLEAN."
---
Review by P.M.M.
Rating

"Came immediately and tailored the equipment to our needs."
---
See All Reviews