ServiceMaster All Care Restoration is a leading restoration and fire damage cleanup company in Tucson, AZ. After your initial call, our certified technicians will quickly assess the situation and provide you with a professional evaluation of the fire damage.
At ServiceMaster All Care Restoration, Tucson, AZ, we understand the stress that comes along with fire damage and cleanup. Since so many personal items and property is destroyed, the last thing you want to deal with is insurance issues. We will work with your insurance company to lessen the stress during this difficult time. We will walk you through the process until the restoration is complete.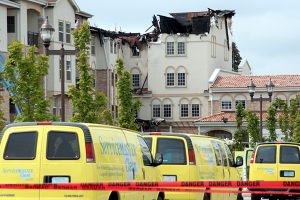 Before we arrive at your home, follow the below fire damage restoration tips:
– Call ServiceMaster All Care Restoration, Tucson, AZ within the first 24 hours of the fire. Corrosive fumes and soot from smoke and fire can cause permanent etching in less than 72 hours.
– If the outdoor temperature is above 60 degrees, open windows and doors to help air out your home and reduce smoke odors.
– Clean chrome, formica, aluminum and porcelain fixtures to prevent tarnishing and etching.
– If your furnace uses forced hot air, change the air filter.
– Tape damp cheesecloth over important documents to capture loose soot in the air.
– Dispose of any opened packages of food.
– If the electricity is off, clean out the refrigerator and leave doors propped open.
– Send any clothing with heavy smoke damage to a qualified restoration dry cleaner for thorough cleaning.
If you experience fire damage and need a fire restoration professional, call us, ServiceMaster All Care Restoration, Tucson, AZ at (520) 363-2226.
---
See All Reviews