Even though we read about major accidents and violent crimes that happen every day in the U.S., it is difficult to imagine a scenario like this playing out on your own property. The chances may be low, but it is a possibility which makes it important to know how to react to such a scene. Trauma scenes involving a serious injury or death typically contain blood and other biohazard materials that spread infection and disease if they are not handled properly. Once you call 911 and get emergency responders on the scene, you must call a licensed professional as well that can safely handle biohazard materials. ServiceMaster All Care Restoration provides biohazard and trauma scene cleaning services to help safely clean and restore crime and trauma scenes in Tucson, AZ. Our technicians are highly trained to handle this type of cleanup and we also take a sensitive approach for situations involving a loss.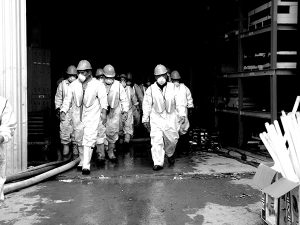 The scene of any major accident or crime is potentially dangerous due to a number of factors, including biohazard materials like blood and bodily fluids. These materials can be infectious which is why you should never attempt to clean them up yourself. Harmful toxins like viruses and bacteria will spread illness and infection much faster if you use improper cleaning methods. Law enforcement officials and EMTs are not trained to clean up biohazard materials, only licensed restoration professionals like ServiceMaster All Care Restoration can safely and effectively clean and restore these scenes.
Our technicians have been specially trained to safely remove biohazard materials as well as clean and disinfect the scene using advanced equipment and cleaning products. The biohazard cleaning services we provide can cover the following:
Crime scenes
Homicides/ suicides
Undetected death
Biohazard spills
Serious accidents
Our biohazard and trauma scene cleaning services consist of the following steps:
Decontamination: We will fully clean and sanitize the entire scene after removing the biohazard materials to decontaminate the area.
Odor Removal: We use powerful deodorization techniques to remove unpleasant odors.
Safe Disposal: We will remove all biohazard materials and transport them to a facility that is licensed to dispose of them.
Continuous Monitoring: We work diligently and effectively with good communication and quality control.
Insurance Help: We can help you submit your claims to your insurance provider.
Family Assistance and Support: Dealing with the aftermath of a violent crime or accident is especially difficult if you have lost a love one. Our technicians approach these situations with compassion and we can also put family members in touch with grief counselors if they need additional support.
Certified Technicians: We guarantee that each of our technicians is properly certified to handle biohazard cleaning in compliance with local and state government regulations.
Encountering the scene of an accident or violent crime is traumatic, but you must stay calm in these situations and protect your safety. As soon as you alert emergency responders, contact ServiceMaster All Care Restoration to safely restore the scene with our biohazard and trauma cleaning services. We are available 24 hours a day at (520) 363-2226 to respond to emergencies in Tucson, AZ.
---
See All Reviews