Dealing with the aftermath of any type of natural disaster can be a long and stressful process. That is why many homeowners and business owners are so relieved to have their property back to normal so they can resume their everyday activities. However, it is possible to come back to one last surprise from the disaster, a foul odor. Fires, mold, extensive water damage, and other disasters can create an unpleasant odor that spreads throughout the building and gets absorbed into various furnishings and materials. At ServiceMaster All Care Restoration, we can effectively remove foul odors with our deodorization services in Tucson, AZ. We use advanced equipment and technology to fully extract the odors and we will also address the source to prevent the odors from returning.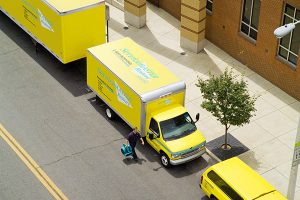 Foul odors are so pervasive in your home because they can get absorbed into furnishings and porous building materials. It is very difficult to remove these lingering odors with air fresheners and other household remedies which is why you must call a professional for assistance. Our technicians use state-of-the-art odor removal methods and technology, including ozone technology, thermal fogging, and Nano carbon technology, to effectively extract odors from affected materials and air spaces. The deodorization services we provide are effective for the following:
Mold odors
Fire and smoke odors
Pet odors
Dead animal odors
Undetected death odors
Deodorization Techniques
Our technicians at ServiceMaster All Care Restoration will provide thorough odor mitigation services with the following techniques:
Nano Cartridge: We use the eco-friendly OdorKlenz-Air Cartridge in our air scrubber to remove strong odors from natural disasters and crime scenes.
Thermal Fogging: This technique involves a strong, penetrating deodorizer that effectively removes odors from smoke. All people, pets, and plants must be out of the building when this technique is used.
Ozone: Our portable ozone generators create ozone which is an oxidizing agent that reduces odors. All people, pets, and plants must leave the property for this treatment as well.
You can expect our deodorization techniques to effectively remove these common odors from natural disasters:
Fire and Smoke Odor: Our thermal fogging process described above can effectively remove residual odors from fire and smoke.
Water Damage Odor: Indoor flooding often leads to the appearance of mold and mildew which creates musty smells in the home. We can remove any musty odors caused by water damage or mold.
Biological Based Odors: Odors from biological sources like dead animals and bodily fluids are pungent and potentially dangerous. We will thoroughly remove these odors from your property.
If there is a nasty odor on your property, it takes professional grade techniques to ensure that these odors are removed. Do not hesitate to contact ServiceMaster All Care Restoration for professional deodorization services if you come home to a pungent, lingering odor. We will remove the source and the smell so that your property remains odor free. Give us a call at (520) 363-2226 to learn more about these services.
---
Recent Reviews
Review by

L.J.
Rating

""Service Master did a fine job, but the $25.00 gift certificate was a ripoff, unusable at most restrarants listed OR made you spend $50.00 for lunch…NO THANKS.""