Here at ServiceMaster All Care Restoration in Tucson, AZ we are the carpet cleaning experts to handle any commercial or residential cleanings.
We understand the investment put into carpets of any size and will ensure our expert services return them to new. Dust and dirt start to accumulate within your carpet fibers breaking them down over time. Our water extraction method reaches deep down into the carpet to remove all dirt and debris. This will help your carpets last longer while keeping them looking like new. We recommend scheduling cleanings every 6-12 months to ensure proper cleaning.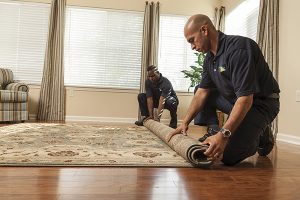 Our advanced tools and techniques allow our technicians to properly clean and restore your carpets. We can handle any residential or commercial sized area of carpeting.
Our expert carpet cleaning services include:
– Primary Inspection of Carpeting
– Pre-Treatment of Spots
– Application of Cleaning Products to Loosen Deep Down Soil
– Hot Water Extraction
– Post-Treatment of any Residual Stains
– Final Inspection of all Carpeting
Scheduling regular carpet cleanings is important to sustain your carpets appearance. For a free carpet cleaning estimate in Tucson, AZ and the surrounding areas, call us, ServiceMaster All Care Restoration today at (520) 363-2226 .
---
Recent Reviews
Review by

L.J.
Rating

""Service Master did a fine job, but the $25.00 gift certificate was a ripoff, unusable at most restrarants listed OR made you spend $50.00 for lunch…NO THANKS.""