One of the hardest things to do as a natural disaster causes damage on your property is limit that damage to avoid significant losses. This means that the pervasive nature of indoor flooding, fires, smoke, and mold will likely cause damage not only to your home and furnishings, but to your personal items as well. Damaged personal belongings make dealing with the aftermath of the disaster worse, and if the damaged items are not restored right away, they could be lost for good. ServiceMaster All Care Restoration provides content cleaning and pack-out services to help restore damaged personal items after a disaster in Tucson, AZ. Our technicians can effectively treat a wide range of personal items and save them from permanent damage.
Content Cleaning and Restoration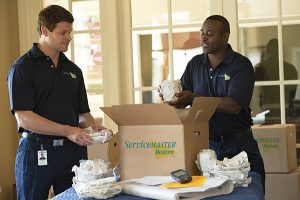 Experiencing the effects of a natural disaster is difficult and the damage done to your personal items can be devastating. Our technicians help restore some peace of mind following a disaster by quickly treating your damaged content before the damage becomes permanent. We can effectively clean and restore anything from clothing and jewelry to electronics using our advanced cleaning techniques. The cleaning and restoration process can be done on your property if the conditions allow. If your home or building is not in a safe or stable condition, we can provide pack-out services to take your items to our facility for restoration and storage.
Pack-Outs
There are many cases in which a natural disaster causes so much damage to the property, that it is better to complete the content restoration off-site. We provide complete pack-out services to take your damaged content to our facility where it can be effectively cleaned, deodorized, and restored. You can expect the following with our pack-out services:
Careful packing of each damaged item to be transported to our facility
Each item is added to an inventory list that will be provided to you and your insurance company
Thorough cleaning, restoration, and deodorization of your content in our facility using advanced techniques and equipment.
Storage of your items in our facility while your home is being restored.
Delivery of your items when the restoration is complete.
If the damage from a disaster has spread to your personal belongings, make sure you put your damaged items aside so that our professionals can get to them as quickly as possible. ServiceMaster All Care Restoration provides content cleaning and pack-out services for any type of disaster in Tucson, AZ to help prevent your content from becoming permanently damaged. We are available 24 hours a day at (520) 363-2226 to respond to disaster restoration emergencies with our content cleaning services.
---
June 20, 2020
Ruth Ann Grace
Phoenix, AZ
June 13, 2020
Gregory & Cheryl Smith
Wickenburg, AZ
See All Reviews