From warehouses to retail stores to office buildings, the commercial buildings in Tucson, AZ, can suffer major damage from natural disasters like fires and floods. If such an event happens, then severe damage can occur. The building's structure can be jeopardized, equipment gets ruined, and products are damaged.
ServiceMaster All Care Restoration provides commercial large loss services that help commercial properties recover in the aftermath of a disaster. No matter how much damage your property has suffered, our technicians will help by restoring your content and building.
Flood and Fire Damage
The main situations we handle are damage caused by fire, smoke, and soot and significant amounts of water or flooding. These disasters can jeopardize the structural integrity of your building and permanently damage anything inside. We will help contain the damage by being immediate in our response, allowing you to get back to normal business operations as soon as possible.
Commercial Flood Damage Restoration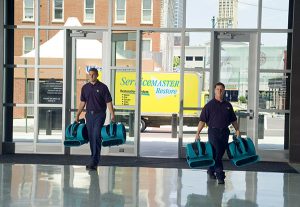 Because wood, drywall, and other porous materials are commonly used as building materials, floodwater can be especially damaging. The water will continue to be absorbed by these materials until the problem is addressed.
We employ well-trained technicians who can identify the water source and fix it to prevent further damage.
With our advanced water extraction and drying equipment, we will remove excess water and moisture from your property. After that, we can proceed with the restoration process to repair the resulting damage.
Commercial Fire Damage Restoration
Fires can obviously result in severe property damage, but the most damage is often caused by the resulting smoke and soot the fire produces. The reason for this is that smoke and soot linger in the air and cause damage after the fire is out.
Our technicians are aware of this, which is why we start our work with emergency pre-cleaning services. This will prevent corrosion, discoloration, and etching from smoke and soot — which can become permanent if not addressed soon enough.
We use specialized chemical cleaners and equipment and then proceed with the restoration of the building and any belongings.
Complete Commercial Restoration
No matter the kind of damage done, we are available to respond to emergencies on a 24/7 basis. We do initial inspections to figure out the damage's cause and extent. Then, our technicians will conduct emergency pre-cleaning services if necessary.
After we remove harmful elements such as soot and water from the affected building materials, we start restoring damaged materials: structural elements, electronics, equipment, furnishing, documents, personal belongings, and more.
Our goal is to efficiently and effectively restore your property to its original condition.
We will assist commercial properties in Tucson, AZ, with disaster recovery.
For our commercial large loss services, give us a call at (520) 363-2226.
---
See All Reviews